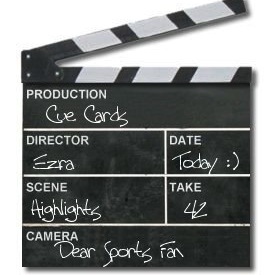 Cue Cards is a series designed to assist with the common small talk about high-profile recent sporting events that is so omnipresent in the workplace, the bar, and other social settings.
Sport: Soccer
Teams: United States & Mexico
When: Tuesday, September 10
Context: A World Cup qualifying game
Result: The United States defeated Mexico 2-0
Sports Fans will be Talking About:

The United States has qualified for the 2014 World Cup in Brazil! This may seem old-hat to most people today because the U.S. has qualified for every World Cup since 1990. This string of seven straight qualifications is

seventh best

in the history of the World Cup and before 1990 the United States had not qualified for forty years.

There will probably be some people who question why other people like soccer. I just wrote another post answering that question.
A lot will be made of the location of the game. This is now the fourth straight time that the United States has beaten Mexico in a qualifying match played in Columbus Ohio. Each game has ended 2-0 in favor of the U.S. Read Grant Wahl's excellent post-game piece in Sports Illustrated for more exploration of this topic.
Mexico isn't out of the World Cup for the first time since 1994 yet… but it doesn't look good. They fired their coach a few days before this game and might do it again after losing to the U.S.. World Cup qualifying is a little complicated (it somehow involves hexagons) but Mexico probably needs to win their two remaining games by as many goals as possible to have a realistic chance. Not making a World Cup in a soccer obsessed country (which basically all of them but the U.S. are) is a hard pill to swallow, so if you are hanging out with a friend who is a Mexican soccer fan today, be nice to her!
What's Next: The next qualifying matches are on November 10 when the U.S. plays Jamaica and Mexico plays Panama.