One of the most disconcerting aspects of traveling to a country whose language you don't know is how the most commonplace things become indecipherable. Ask a stranger for directions and she may think to explain tricky vocabulary but she'll almost never think to describe whether the place she just referred to is a city, train station, library, cafe, or all of the above. The same is true for sports natives. A thoughtful sports fan should be willing and able to explain a rule, but he'll almost never think of explaining who a particular team is, what sport they play, or the team's history and characteristics. In this series, we'll do just that — describe what is unique about each sports team.
Pittsburgh Steelers – the basics
Sport – Football
League – National Football League (NFL)
Conference – American Football Conference (AFC)
Division – AFC North
History – That the Pittsburgh Steelers would go on to win more championships in the modern era than any other team would have come as a giant surprise to fans of the team during its first few decades. Founded in 1933 as the Pittsburgh Pirates (there was already a baseball team by that name), the football team didn't have a winning season throughout the 1930s. In 1940, they renamed themselves the Steelers but things didn't get any better in that decade. During World War II, the team merged briefly and temporarily with the Philadelphia Eagles (the Steagles) for one season and the Chicago Cardinals (derisively, the Carpets) for another. It wasn't until 1970 that things got going for the Steelers, but then they started making up for lost time and have been a model winning franchise ever since. The team has been owned by a single family, the Rooneys, for its entire history.
Championships – The Steelers have won six Super Bowls, more than any other franchise. Their victories came in 1974, 1975, 1978, 1979, 2005, and 2008.
Rivals – The Steelers rivals are the three other teams that play in the AFC North, the Cleveland Browns, Cincinnati Bengals, and Baltimore Ravens. Unlike other divisions though, these rivalries run very, very deep.
The Steelers logo projects strength, intimidation, winning, and a very old but modern tradition. The Steelers don't have a crusty traditional feel like some of the teams that won a lot earlier in their histories. Instead, their tradition is firmly planted in today's NFL. Tough but not unintellectual. Aggressive but not crazy. The Steelers of the past 45 years have been built around supremely stifling defenses but not to the complete detriment of their offense.
Here is the their winning percentage in each season since their inception:

Who are some notable players or figures from the Pittsburgh Steelers?
Art Rooney and Dan Rooney, the grandfather and father of current Steelers owner, Art Rooney II were the first two owners of the Steelers. Art was an athlete himself, once winner of an amateur boxing belt in 1918! In 1933, he paid $2,500 to the NFL for the right to create an NFL franchise in Pittsburgh. He also loved baseball and reportedly helped support a Negro League team in Pittsburgh. Called "the Chief" and renwoned as the first citizen of Pittsburgh, Art died in 1988. Art's son, Dan, took over as owner and team president of the Steelers in 1975 and was instrumental in many of the Steelers greatest victories. As an owner, he was an active part of league politics and policy and helped design the salary cap as well as settle the 1982 player's strike. Art and Dan both were on the front edge of racial equality in football and Dan led the effort to implement a policy that requires teams to interview at least one minority head coaching candidate whenever they have an opening. That rule is called the Rooney rule. Dan currently serves as United States ambassador to Ireland.
Dick LeBeau was one of the best cornerbacks in football during his time in the NFL with the Detroit Lions from 1959 to 1972. After his retirement, he went straight into coaching, and made his name as a fine coach of special teams and defensive positional groups. He landed in Pittsburgh in 1992 and coached as an assistant coach there until 1996. He returned from 2004 to 2014. All together, LeBeau has been an active player or coach in the NFL for the last 57 consecutive seasons. And at the age of 77, he's still going strong as an assistant head coach of the Tennessee Titans. LeBeau is credited with inventing the zone blitz, an extremely effective and now common maneuver in which a little dude who the offense thinks is going to cover a wide receiver, instead tries to sack the quarterback while a big dude who the offense thinks is going to try to sack the quarterback drops back to cover a wide receiver. The result is often a quick throw from the quarterback intended for the receiver, who he believes will be uncovered, but which instead is an easy interception for the big dude. Surprise!
Where do the Pittsburgh Steelers play?
The blind date test
Imagine you're about to go on a blind date and all you know about the person is that he or she is a Pittsburgh Steelers fan. Here's what you can guess about that person. Remember that all fans are unique. We bear no responsibility for any misunderstandings we engender. Trust but verify.
Your date will expect to win at every game you play.
What will make a Pittsburgh Steelers fan squirm?
Pose the hypothetical question of what would have happened had quarterback Ben Roethlisberger been accused of sexual assault in 2015 instead of 2008.
Buy Pittsburgh Steelers Swag!
What do the Pittsburgh Steelers look like?
Team colors are black, gold, and white. Their current uniforms look like this.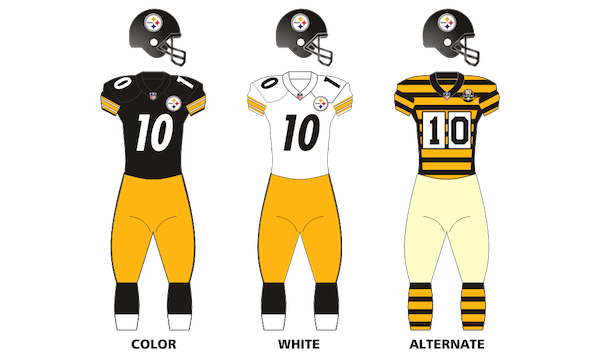 Current and recent teams
Coming soon — a post about the 2015 Pittsburgh Steelers including an overview of their most interesting characters as well as what fans expect from the team this year.