Dear Sports Fan,
I just saw Rafael Nadal lose in the first round of Wimbledon – but I thought he just won a huge tournament last week – what gives? I heard an announcer say it was the surface of the tennis court.
Thanks,
Jeremy
— — —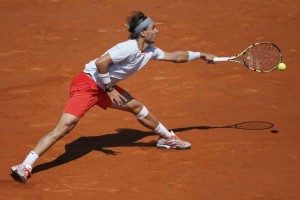 Dear Jeremy,
Thanks for the question – you've put your finger on one of the most interesting facets of tennis: different tournaments are played on different surfaces, and some of them are so distinct that it can seem like another sport.
First, a little context: Nadal is one of the most talented players of all time, and not just because he picks a wedgie with remarkable grace. While he has been most successful on clay courts (most popular among continental European players, who grow up playing on clay courts) he is one of the few players who is so talented that he can win on any surface. He's completed the career Grand Slam, which means he has won each of the four major tennis tournaments – the Australian Open (hard-court), the French Open (clay court), Wimbledon (grass court) and U.S. Open (hard-court). This is an exclusive club and winning all four of these tournaments speaks to the strength of a player's overall game. Most players specialize, or at least do better, on one surface over another.
That's not just a matter of familiarity – the game is very different depending on the surface. Clay court tennis is a slower game – because the clay physically slows the ball down and causes it to bounce higher – and rewards consistency, the ability to put spin on the ball (because the clay accents the ball's spin,) and defense. Nadal is so athletic and quick that it is virtually impossible to get a shot past him on the slower clay.
On grass the ball bounces lower and moves faster – which, historically, has favored more aggressive players and hard servers like the great Pete Sampras whose relentless attacks were more successful on the quick surface. Hard court tennis is somewhere in between the two surfaces.
Nadal was not always successful on grass but he worked at it and got good enough to challenge and beat Roger Federer, the premier grass court – and all around – player of his generation.
The difference between the two players – who have been friendly rivals and are regarded as the two best players of all time – explains Nadal's loss today. Watching Federer play tennis is like watching a cheetah run: it's smooth, effortless and otherwise clearly indicative of something in its element. Watching Nadal play is like watching a construction crew jack-hammering a street: it's unnatural and you can tell the body is having trouble absorbing the shock. Federer has been remarkably consistent because his game and style of play has minimized the impact on his body whereas Nadal has subjected his body to constant and brutal abuse. On clay, he can play hurt and still gut out a win because he is so much better at the clay court game – but in other tournaments his advantage is less pronounced and, in the case of Wimbledon, he's susceptible to upsets like the one he experienced today.
Thanks for the question,
Dean Russell Bell