The Olympics are over. I'm so glad I was able to go in person although, as you'll read in a bit, the last couple days were frustrating. On my second to last day at the Olympics I went to both the Men's Ice Hockey semifinals. On my last day there, I went to the Women's Mass Start 30k Cross-Country Skiing race. Then I took an overnight train to Rostov-on-Don, a city in Russia about ten hours North of Sochi. After a day or rest, recuperation, and a little Olympics TV watching, I'm flying to Istanbul tonight.
The Men's Ice Hockey Semis were the events I was most excited about seeing. When I first thought of going to the Olympics, they were the big investment I made in terms of money and emotion. Seeing the best four countries in the world was going to be great! After Russia lost to Finland, I was disappointed both because I felt bad for the host team and country (the Russians took this event so seriously that Putin apparently said that if the men's hockey team won gold, no one would care what else the Russians won in the Olympics and if they didn't, no one would care what medals the Russians did win) and I also felt robbed of what would have been an amazing experience to be in the stadium for an important Olympic home game. Nonetheless, I was excited to see Finland play Sweden and VERY excited to cheer on the U.S. against Canada.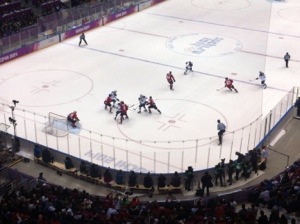 It wasn't until the U.S. lost that I realized how much I had invested emotionally in that game. I felt like crying. It felt like I had come thousands of miles to see this game and then we had lost. Not just lost, but lost 1-0 which means I never got to celebrate; there was never a moment of joy to look back on fondly. The team looked like it was moving in molasses from the first minute of play while the Canadians danced around on the ice. Ugh.
Here's the thing: the Olympics are about so much more than sports. They are a travel experience of a lifetime for many. I talked to a woman whose son had competed for the U.S. in Snowboard Cross and she had never left the country before! For her and her son, the Olympics are an achievement to be proud of for the rest of their lives. The Olympics are a great way for cultures to mix and people to meet one another. The Olympics are an opportunity for the host nation and people to welcome the world to their shores proudly and show themselves to be a fine people — which the thousands of Russian volunteers and people of that region certainly showed me. The Olympics are also a commercial enterprise for its sponsors and broadcasters. But for sports fans… the Olympics are about sports and for me at that moment, the event that meant the most to me had just gone wrong. Ugh.
Now, a few days later, I'm beginning to get over it. Before I left Olympic park that night, I made sure to put everything aside and take a few minutes to just enjoy being there. I grew up watching the Olympics with my Mom on television and playing my Dad and Brother in an Apple IIe game called the Olympic Decathlon whenever I could wrangle a game out of them. I never really thought about going — I don't like big masses of people, it's expensive, etc. — but being there connected me with myself and my own history in a wonderful way. I'm glad I went.
Over time, my memories of the event and my memories altered by my photos of the event will take precedence in my head but I'll also never forget the impotent feeling of watching the U.S. lose to Canada without ever scoring a goal. At the same time, I'll never forget walking out of the bar in Manhattan where my boss and I had snuck off to watch U.S. vs. Algeria in the 2008 World Cup and reeling with disbelief at how amazing Landon Donovan's extra time goal had been or riding in a taxi to Brooklyn with my friend James to a party at his house which he had skipped to watch Game 7 of the Stanley Cup finals the year the Penguins won the championship. I guess that's part of being a sports fan.
Thanks for reading,
Ezra
P.S. Oh — right, I promised to write about going to see Cross Country Skiing in person. Don't do it unless you're with a group and have a big supply of booze, flags, and ideally cowbell. You stand there for fifteen minutes and then some people ski by really fast for about ten seconds. Then you wait again.