Two stories popped up recently about women in the NBA that are worth knowing about. The women in the spotlight are Becky Hammon and Violet Palmer. Both were successful point guards during their playing days and both have become pioneers for women in men's professional basketball.
Violet Palmer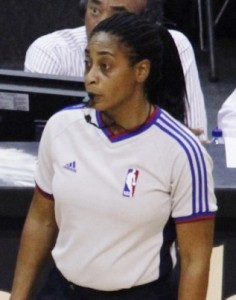 The first story was mercifully underplayed because it's really no big deal. Violet Palmer, who became the first female NBA ref in 1997, married her long-time partner, Tanya Stine. Palmer said in an interview that although she came out as gay to her fellow refs in 2007, this is her "big formal coming out." Palmer has been a trailblazer for women in an arena inexplicably dominated by men. ESPNW covered this exhaustively in 2011 and unfortunately not much has changed since Jane McManus wrote this:
No women call NFL, Major League Baseball or NHL games. The NBA has one female official, Violet Palmer. The elite levels of professional and Olympic soccer are opening their doors to women, with the majority of the opportunities coming in the women's game.
Being a ref is a tough job for anyone. A common cliché about refs, which I think is pretty true, is that the best refs are the least noticed ones. This is because fans usually only remark on a ref when they feel he or she has made a bad call. Violet Palmer has done it for seventeen years and has been thoroughly unremarkable for all the best reasons. Women, gay people, and all lovers of equality should be proud of her.
Becky Hammon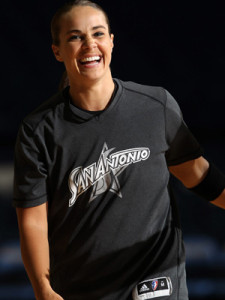 Becky Hammon has had an interesting career. Despite having been a star at her college, Colorado State University, she was not drafted by any WNBA team. Instead, she was signed as a free-agent by the New York Liberty where she became a solid player. That was 1999. Since then, she's played professional basketball in one league or another for the past 15 years. She became mildly notorious in 2008 when, frustrated by not being invited to join the U.S. Olympic program, she became a naturalized Russian citizen and joined their team. This is slightly less crazy than it might seem at first. Like in some other women's sports, while the most competitive league in the world may be in the United States, the salaries are significantly higher elsewhere. Many women who play in the United States also play professionally elsewhere for part of the year. Russia was a common destination for many top female players during the late 2000s. If you're curious about the lifestyle, I dug up a great article from a few years back by Jim Caple that profiles a few top American players in Russia. For the past seven years she's played point guard for the San Antonio Silver Stars.
Yesterday news broke that she was retiring from the WNBA to become Assistant Coach for the San Antonio Spurs, the men's professional basketball team in San Antonio and reigning NBA Champions. Any major hire that the Spurs make would make news but this made big news because Hammon will be the first female Assistant Coach in NBA history. Hammon is already familiar with the Spurs and they are familiar with her. While rehabbing a major knee injury last year, she spent a lot of time at Spurs practices with the blessing and mentorship of long-time Spurs coach Gregg Popovich. According to Andrew Keh in this New York Times article, Hammon called that time an "internship." She must have impressed because Popovich not only hired her but covered her with praise (effusive praise for the normally taciturn Popovich,) saying that he is "confident her basketball I.Q., work ethic and interpersonal skills will be a great benefit to the Spurs." 
The best part of this is that just because the Spurs did this, the rest of the league is waking up this morning not only respecting Hammon's hiring but frankly scared of it. The Spurs have done such a wonderful job over the past twenty years and have developed such a reputation for finding talent where other teams miss it that I wouldn't be surprised at all if the WNBA ranks were thoroughly scoured for other coaching talent in the next year. That's a good thing.