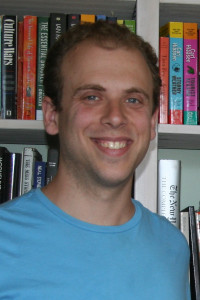 Today I'm using Dear Sports Fan to share a major moment in my life. I'm celebrating my thirty-second birthday and my final day working at Return Path. After seven and a half years working at the same company, I've decided to launch myself into the unknown.
Rather than work a regular 9-to-5, I'll be working on three ventures: Dear Sports Fan, Fantasy Blend, and Fish for Metrics. Each project reflects an aspect of myself that I want to explore. Each is scary and exciting in its own right and seeing the three together elicits an intimidating and exhilarating jumble of emotions for me. Let me tell you a little bit about the projects.
Project 1: Dear Sports Fan
I'm planning to throw myself into Dear Sports Fan close to full time. I started this website three years ago as a way to explain myself as a sports fan to the many non-sports fans in my life. I pretty quickly realized that the better mission was to try to help non-sports fans live in harmony with the sports-obsessed mainstream, and I've noticed that sports fans enjoy it too. I guess even we sports fans are curious to know more about how offside rules relate from sport to sport or how to understand and cope with the playoff beard. I'm excited to devote myself to this project more completely and experiment with creating other resources to help people negotiate sports in everyday life. It would be a wonderful show of support if you signed up for the email list and shared the site with your friends and family.
Project 2: Fantasy Blend
I'm also going to be working on an idea that's rattled around in my brain for the last few years. I love fantasy sports but when I play them, they cannibalize my brain so that I don't have space for much else. I don't have time to think about other things I enjoy, like music, literature, food, television, and politics. If only I could play a fantasy game with all of those topics… Well, it doesn't exist, so I'll just have to build it! Introducing Fantasy Blend, the fantasy game of all pursuits for all people. I've already started making progress on this idea, so you can sign up now to be a beta Fantasy Blend owner soon.
Project 3: Fish for Metrics
Lastly, I'm going to try to take the heart of what I loved about my work at Return Path and do a little Salesforce reporting consulting under the name Fish for Metrics. I'll be helping companies who are struggling to get the reporting they need out of Salesforce but don't want to plunk the money down to buy a fancy Business Intelligence tool.
Be a Part of the Celebration and the Adventure
This feels like a crazy thing to do. I had great times at Return Path and learned so much from my team, mentors, and colleagues, during my time there. As someone who loves stability, it was almost a perfect fit. But as time went on, I found myself thinking more about the "almost" than the perfect. The stability of my career, matched with my own predilection for stability, had me feeling trapped and static. In the past couple years, I've had trouble feeling excited and I've not felt like I was learning new things.
So, yes, I know that the consulting game, the sports blogging game, and the fantasy game game are all brutal markets where new entrants are often eaten up like raisins glued to celery with extra crunchy peanut butter. It's okay! It's important for me to try and to risk failure right now. Sure, I'll learn a lot about writing and promoting and advertising and web design and game design and customer discovery and entrepreneurship and networking and nurturing business partnerships and a ton of other things. But even more importantly, I'm hoping to remember how to feel excited. I want to remember how to be a beginner and how to learn. I don't want to shy away from the impossible anymore.
You can help!
My biggest fear in leaping off this particular cliff is that I risk sliding into social isolation from working by myself so much. I'm going to do my best to stay organized and to reach out to friends and family to talk on the phone, see each other for a drink (maybe I'll have to learn to drink coffee), or share a meal. So, stay in touch, however you can.
Of course, I'd love to have you as a subscriber, beta fantasy owner, or client, too. Sign up for Dear Sports Fan's email list or ask a question! Join the waiting list for Fantasy Blend. Or hire me or refer me as a consultant at Fish for Metrics.
One of my favorite children's books is Arthur Ransome's Swallows and Amazons. It's about siblings who have adventures camping and sailing on their own. Before they leave, they telegraph their father, who is serving in the Navy, to get his permission. His response: If not duffers,[1] will not drown. If duffers, better off drowned.
It's time for me to go sailing. I hope to see you on my way,
Ezra
Footnotes
(↵ returns to text)
modern translation: incompetent, internet translation: noob↵