Vamping on the great Dos Equis commercials that feature the "Most Interesting Man in the World" claiming, "I don't always drink beer, but when I do, I prefer Dos Equis," I don't always watch sports, but when I do, I prefer contrasts. I think many sports fans are like this. I'd rather watch a great defense play against a great offense than watch two great offenses score mounds of points on each other or two great defenses circle each other cautiously. In boxing, I'd rather watch a hot-headed slugger face off against a tactically sound boxer. In baseball, I want to see if a great pitcher can throw his way through a murderer's row of hitters or whether they tire him down. Even in individual sports like downhill skiing or golf, it's more compelling if you can watch people approach the puzzle of winning in different ways. There are two sporting events tonight that promise big contrasts in style and I am looking forward to catching at least part of both of them. I'll lay out the contrasts in this post, tell me if you watch and if so, whether you see and enjoy the contrasts I describe.
Cool vs. Hot at the U.S. Open
Tennis is perhaps the most psychologically difficult sport because its players are alone on the court for up to five hours. In major tournaments like the U.S. Open, they aren't even allowed to speak to their coaches. To win a tennis match, men (women play only three sets) need to win three sets out of five. To win a set, they need to be the first to win six by two games or win in a tie-break. Games require them to get to four points but they have to win by two. In matches between players of relatively equal skill, temperament or injury almost always mean the difference between winning and losing.
Roger Federer's name is all over the record books but perhaps his most impressive record is that he was ranked number one in the world for 237 weeks in a row. This record expresses his nature. He is cool. He doesn't get ruffled. His movements are smooth, graceful, and efficient. He never looks like he's trying that hard or, frankly, that he's physically strong enough to keep up with his opponent. All of this explains, in part, how Federer can still be playing at such a high level at 33, an age at which most tennis players' physical skills have degraded to the point that they cannot keep up anymore.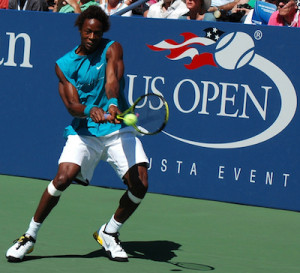 Federer's opponent is the exact opposite. Gael Monfils is a physical freak. Federer looks like a robot programmed to play tennis. Monfils looks like a species genetically designed to play tennis. He's tall, incredibly muscular, and flexible. His springs around the court like a modern dancer — never quite centered but never out of balance either. If it weren't for his temperament, he'd probably be completely unbeatable. As it is, he spends a lot of time self-destructing on tennis courts. He screams at himself, gives up, tries again, gives up again. He can't seem to help being a showman. The more important the moment is, the less he seems to be able to help leaping into shots or trying to hit the ball between his legs. The most dominant he's ever looked on a tennis court was a rain delay dance competition at the French Open:
At least until this U.S. Open, in which Monfils, playing without a coach, hasn't lost a single set. Monfils remains as compelling as he is confusing.
I have to admit, I kind of love both these players. I can't help but root for old-age and treachery to win out over youth and vigor, so I want Federer to win. Meanwhile, Monfils' unpredictability and pathos make me love him, and he just looks like he's having more fun when he's having fun out there than anyone else.  We'll see what happens tonight around 8 p.m. on ESPN.
Defense vs. Offense to Start the NFL Season
The first NFL game is a celebration and would be must watch TV for sports fans no matter who was playing. That said, tonight's game between the Seattle Seahawks and the Green Bay Packers provides a great contrast in everything but color. The Seahawks have the best defense in the league, with big, fast, and brash defenders flying all over the place, hitting anything that moves. The Packers offense has been in the top third of the league in scoring for the last five years. The Packers have a well established star at quarterback who leads an offense based on quick throws and immaculate timing. The Seahawks specialize in messing up offensive timing by hitting receivers (legally or illegally) at the line of scrimmage. The Seahawks offense tries to pound their opponents into the ground with powerful running attacks. The Packers defense was, well, frankly bad last year.
The only similarities between these teams is that they are both good, they both think they have a chance to win the Super Bowl this year, and they both wear green. See what happens at 8:30 p.m. ET on NBC.