Cue Cards is a series designed to assist with the common small talk about high-profile recent sporting events that is so omnipresent in the workplace, the bar, and other social settings.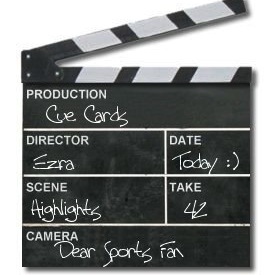 Yesterday —  Monday, September 29
Down and out in Kansas City  — The Kansas City Chiefs beat the New England Patriots 41-14 last night and the game didn't even seem that close. The Chiefs dominated the Patriots in just about every way possible. They were better at running the ball. They were better at throwing the ball. They were able to keep the Patriots from running the ball successfully and, when the Patriots tried to pass, the ball seemed just as likely to end up in an opponents hands as one of their own. It was a complete beat-down.
Line: I know the Patriots always seem to turn it around, but this year their team seems really bad.
Two little bits of soccer — Other than the football game, the sports world was pretty quiet yesterday. You know it's quiet when the other biggest score of the day is Stoke City 1, Newcastle United 0. Both these teams are relatively weak teams in the top British soccer league, the English Premiere league. According to this ESPN article, Newcastle United's manager might get fired because of the result. Also their nickname is the Magpies! The other interesting soccer news is that Chivas USA is being sold and as part of the deal will skip the next two seasons! It's an unorthodox move. Chivas had been one of Major League Soccer's most interesting franchises because it was owned by the owner of a Mexican soccer team and operated almost as a minor league team. Apparently that has not been successful and the new owners insisted on the team taking a break from competition while they rebrand and potentially relocate the team.
Line: Soccer seems so wacky compared to other sports. Who names a team the Magpies? Who buys a team but insists that it stop playing?