With four teams left alive in the baseball playoffs, fans of the San Francisco Giants, the St. Louis Cardinals, the Baltimore Orioles, and the Kansas City Royals are freaking out about their teams with good reason. Making the semifinals (called the American League Championship Series and the National League Championship Series) is an achievement in and of itself. For fans of the Orioles and Royals in particular, this year will be one to remember for a long time. One of those teams (they play each other) will make it to the World Series after only making the playoffs once since 1997 (Baltimore) or not at all since 1985 (Kansas City.) If you live with a fan of one of these teams, you might want to invest in one of these wonderful minimalist baseball stadium prints by S. Preston. Not only are they great presents but they're also a good defense against your fan buying a regular sports poster to remember the season by; one that you will not want hung in your living room. A gift of one of these prints says, "I like how big of a fan you are and I support your team" without saying "let's turn our house into a locker room."
S. Preston is a "graphic designer and digital artist, born and raised in Canada, now living in sunny California." These prints are a side project for him but an extremely successful one. As I think you'll see from looking at his work, he's a super talented artist. In his minimalist stadium series, he identifies one signature element of a stadium and designs a beautiful version of it. All of the prints are available for sale on his site in a number of different sizes and configurations. Particularly cool is the option to have the stadium name, city, and the date it was built excluded from the design. If you choose this option, you're left with a striking, colorful representation of your or your fan's favorite stadium without any words on it to clue in the uninitiated. Here are links to and samples of the prints for the four remaining teams in the playoffs. Follow this link to S. Preston's website if you'd like to check out any other stadiums.
Kansas City Royals – Kaufman Stadium
The Royals are my favorite team remaining. They've lost forever and now that they're good, they bunt constantly. It's fitting that this is one of my favorite of S. Preston's prints. I love how this print immediately makes you think of the Royals without showing a baseball, glove, bat, field, or anything.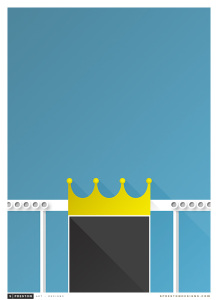 Baltimore Orioles – Camden Yards and Memorial Stadium
The Orioles are my second choice to win the World Series if the Royals can't do it. They're a bright, vibrant team from another long-suffering city. S. Preston not only creates visuals of current stadiums but also of some great stadiums that are no longer in use. Baltimore's Memorial Stadium, demolished in 2002, is one of the stadiums that got S. Preston's retro minimalist treatment. I have to say, I love the Camden Yards one — it shows just the B&O Railroad warehouse that sits behind the outfield of the stadium and still, you can tell what he's getting at.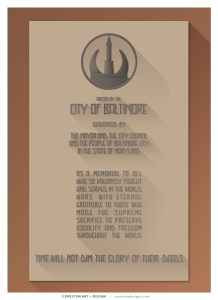 St. Louis Cardinals – Busch Stadium and Busch Memorial Stadium
St. Louis is one of the most successful baseball franchises and I've heard that it's a more crazed baseball city than any in the country. If so, the city's living rooms should be full of these prints. Both prints are great — the modern one identifies itself by the St. Louis arch mowed into the outfield. The vintage print shows the sky, the upper deck, and some very cool architecture on the roof.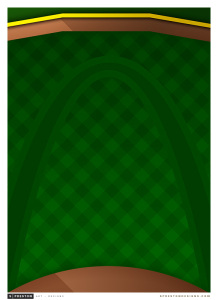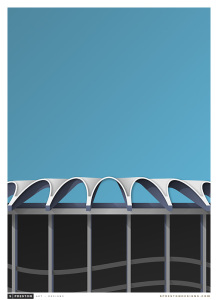 San Francisco Giants – AT&T Park
If you only know one baseball stadium, you probably know Boston's Fenway park because of its signature Green Monster wall looming over left field. If you only know two, you probably know Fenway Park and Chicago's Wrigley Field with its classic brick walls covered with ivy. If you know three though, you probably know San Francisco's AT&T Park because you probably saw it on the news when Barry Bonds was busy smashing balls over the wall and into McCovey Cove where lunatics in kayaks waited to grab them. That image is the one S. Preston chose in his second (and the only one still for sale) design of AT&T Park.