Thanksgiving is a celebration of abundance. As divorced as most of us are today from the actual harvesting of food, we can still give thanks for the many good things we have in our lives. The ideal Thanksgiving celebration has lots of everything: food, family, cheer (both emotional and liquid,) and lots of football! Thanksgiving is not really a gift giving holiday but why not celebrate the abundance of life with some enjoyable Thanksgiving and football related presents. I know it's getting close to Thanksgiving itself, but thanks to the wonders of Amazon and their horde of delivery drones [note from the federal government: Amazon is totally not using drones, we are sure of that. Well, pretty sure anyway.] it's not too late to get yourself or a family member a lovely Thanksgiving treat. In addition to our free Thanksgiving Guide to Football for the Curious, here are a few fun selections:
By far the most elegant of the Thanksgiving Turkey/Football clothing I found, this clever design creates the shape of a football from the words "gobble gobble" and thereby inextricably links holiday meal to sport and vise-versa.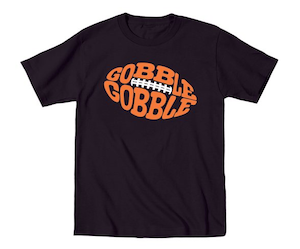 If you like colors, this shirt comes in thirteen colors ranging from the expected white, grey, and beige, to unexpectedly bright greens, yellows, and oranges. The design shows a football with a drumstick attached. The makers of the shirt do not recommend you actually serve a football to your Thanksgiving guests but that could be one interpretation. If you decide to give it a try, please write me and tell me how it goes.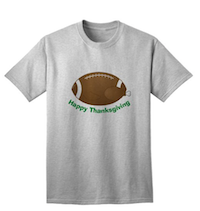 I have to say, if you're looking for something to put your baby in that's Thanksgiving themed, you can do a whole lot worse than going with the football element of the holiday. Half of the baby clothes I found on Amazon involve dressing the baby up as a turkey. Oh, sure, it's totally common to say that a baby is cute enough to eat but I think actually camouflaging your baby as the main dish may be one step across that invisible line. This baby bib matches my Thanksgiving sentiments exactly and simply has the baby demanding turkey and football.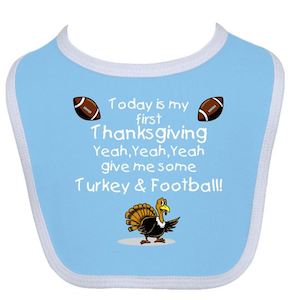 Who doesn't love the Peanuts? This collection includes Its the Great Pumpkin, Charlie Brown, A Charlie Brown Christmas, as well as the classic A Charlie Brown Thanksgiving. It also has special features like this free video of behind the scenes 
footage describing the creation of the famous scene where Lucy pulls the football away from Charlie Brown.
Of course, if you're worried about keeping your family busy while you cook (or conversely while you watch football if that's the side of the holiday you're on…) then you'll need The West Wing so you can watch this: