For fans of college sports, December is not just the holiday season, it's also the time when college football enters into its postseason bowl games and when college basketball starts its regular season in earnest. It's a great time to pick up something sports related as a gift for yourself or the college sports fan in your life. There are a trillion and a half (exact number) things that you can buy that have your college's team logo slapped on them somewhat randomly. Many of them are pretty tacky. My philosophy is that tacky is okay but only if the object in question is something used primarily in a sports situation like attending a game, tailgating, or watching at home. If the product is something you would ever use or see in a non-sports situation, like a shirt or a framed piece of artwork, then the bar is higher for tastefulness. Here are a few college sports related gifts that fit those requirements.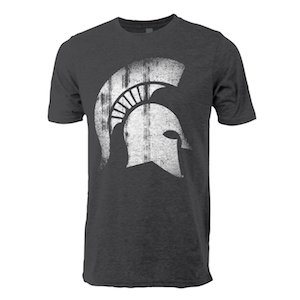 These shirts are just over the line in my mind from tacky into classy. I don't like that they are artificially distressed, I think a good college shirt should earn that look from years of misuse. But, I do like the look, and the fact that there are no words, only a logo, on these shirts makes me like them enough to feature in this post.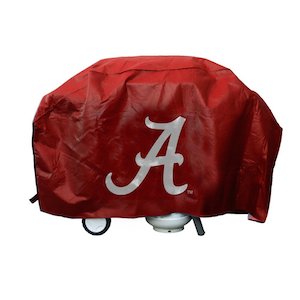 Barbecuing isn't a sport, it's just cooking outside, but for sports fans, the two activities have somehow become inextricably linked. Throwing a college logo onto a grill cover is a low-cost, unobtrusive way to honor that link.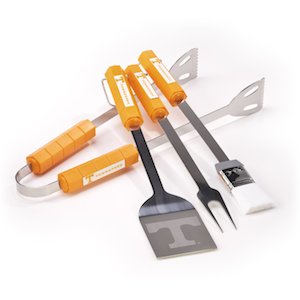 While you're out there barbecuing, you will have removed the cover. I hope you do, anyway, otherwise the smell of all that burning plastic is definitely going to attract some unwanted attention from your neighbors and possibly the police or an environmental protection agency. Anyway, with the cover, you're removing your ability to rep your school. Not to worry! Use these grill tools. I particularly like the subtle embossing of the logo on the spatula. That and the team color on the handle last long after those stickers have fallen off.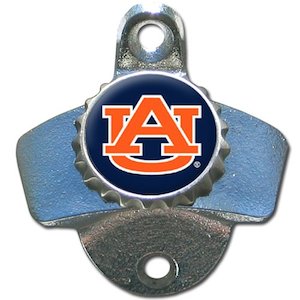 Other than cooking outside, drinking beer is another activity closely related to watching sports. I'm a sucker for these type of bottle opener that hangs on your wall or doorframe. For some reason, I find opening a bottle on an opener like this 1,000 times more satisfying than using a handheld opener.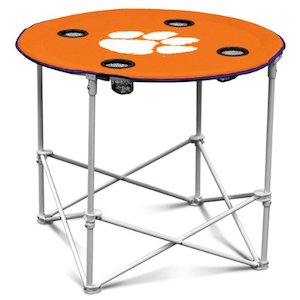 Okay, I'll admit that this folding table is firmly on the tacky side of the fence. There's just something about it that I like. I think maybe, particularly with the Clemson paw print on it, it looks very soft and cozy to sit at. In any event, used solely for tailgating at games, I see no reasonable objection to owning one!
I cannot imagine a better gift for a sports fan than these JELL-O molds. Look at them. They are so retro, so kitchy, so hysterical. If they had my team, I would totally buy a few of them and enjoy eating jiggly, delicious little college logos on game day.