One of the most disconcerting aspects of traveling to a country whose language you don't know is how the most commonplace things become indecipherable. Ask a stranger for directions and she may think to explain tricky vocabulary but she'll almost never think to describe whether the place she just referred to is a city, train station, library, cafe, or all of the above. The same is true for sports natives. A thoughtful sports fan should be willing and able to explain a rule, but he'll almost never think of explaining who a particular team is, what sport they play, or the team's history and characteristics. In this series, we'll do just that — describe what is unique about each sports team.
Kansas City Chiefs – the basics
Sport – Football
League – National Football League (NFL)
Conference – American Football Conference (AFC)
Division – AFC West
History – The team was founded in 1960 as the Dallas Texans. It was a member of the American Football League (AFL). It moved to its current location and took on its current name in 1963 and joined the National Football League in 1970 with the rest of the AFL teams.
Championships – Just one, during the 1969 season. The Chiefs won Super Bowl IV 23 to 7 over the Minnesota Vikings on January 11, 1970.
Rivals – Oakland Raiders
The Kansas City Chiefs are a team full of contradictions. They are one of the most traditional teams in what once was the upstart football league. They retain an air of intimidating success despite not having won a championship in over 45 years. They play in one of the smaller markets but have one of the most passionate fan bases.
Here is the their winning percentage in each season since their inception:

Who are some notable players or figures from the Kansas City Chiefs?
Lamar Hunt was not only the first owner of the Kansas City Chiefs, he also founded the AFL, the league the team played in during its early years. If that weren't enough, he also founded two major men's soccer leagues in the United States, the North American Soccer League (NASL) and Major League Soccer (MLS.) His contribution to both forms of football is recognized by the NFL which named the trophy given to winners of the American Football Conference (one half of the NFL) after Hunt and by American soccer, which renamed its longest running national open tournament after Hunt.
Derrick Thomas was a linebacker who played his entire 11 year career for the Kansas City Chiefs. He was selected to the NFL's honorary Pro Bowl game nine out of his 11 seasons and set a record for most sacks in a single game, seven, which still stands today. Alas, Thomas does not. He died in 2000 from injuries sustained in a car accident. He was posthumously elected to the Hall of Fame in 2009.
Where do the Kansas City Chiefs play?
The blind date test
Imagine you're about to go on a blind date and all you know about the person is that he or she is a Kansas City Chiefs fan. Here's what you can guess about that person. Remember that all fans are unique. We bear no responsibility for any misunderstandings we engender. Trust but verify.
Before saying hi to your date, take a deep breath and… PROJECT. Any real Kansas City Chiefs fan is partially deaf from having spent too much time in the noisy confines of Arrowhead Stadium. Chiefs fans are loud and proud of it. The NFL record for loudest stadium keeps going back and forth between the Chiefs and the Seattle Seahawks.
What will make a Kansas City Chiefs fan squirm?
Assert that you like the Chiefs but then casually mention that your "second favorite team is" the Oakland Raiders or Denver Broncos. This will drive a real Kansas City Chiefs fan crazy! Chiefs fans might respect a fan of one of their sworn enemies but they'll never respect someone who roots for two historically antagonistic teams.
Buy Kansas City Chiefs Swag!
What do the Kansas City Chiefs look like?
Team colors are red and gold. Their current uniforms look like this.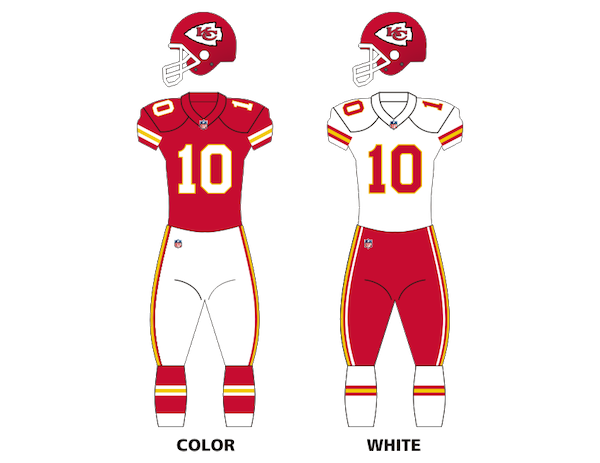 Current and recent teams
Coming soon — a post about the 2015 Kansas City Chiefs including an overview of their most interesting characters as well as what fans expect from the team this year.
Bonus podcast!
I recorded a podcast with a Chiefs fan (and a Seahawks fan.) Enjoy!