One of the most disconcerting aspects of traveling to a country whose language you don't know is how the most commonplace things become indecipherable. Ask a stranger for directions and she may think to explain tricky vocabulary but she'll almost never think to describe whether the place she just referred to is a city, train station, library, cafe, or all of the above. The same is true for sports natives. A thoughtful sports fan should be willing and able to explain a rule, but he'll almost never think of explaining who a particular team is, what sport they play, or the team's history and characteristics. In this series, we'll do just that — describe what is unique about each sports team.
Oakland Raiders – the basics
Sport – Football
League – National Football League (NFL)
Conference – American Football Conference (AFC)
Division – AFC West
History – The Oakland Raiders history began inauspiciously in a number of ways. After a fan contest to win the team turned up the name Oakland Señors, the team went back on their promise to abide by the results of the contest. The last of eight teams to join the American Football Conference (AFC), they got the mouse's share of the talent available. During their first three seasons, they went through three head coaches and only won a total of nine games. From 1982 to 1994, the Raiders played in Los Angeles before returning to Oakland.
Championships – The Raiders have won three Super Bowls – in 1976, 1980, and 1983 beating the Vikings, Eagles, and Redskins
Rivals – Kansas City Chiefs, Denver Broncos, San Francisco 49ers
The Oakland Raiders are one of the most culturally important and interesting sports franchises in the world, and certainly the NFL. One could say that the Raiders are a strong symbol of counter-cultural rebelliousness, but that doesn't go far enough. The Raiders are nihilistic and not in a gentle way. During their heyday, the Raiders intimidated opposing teams like no other opponent. It felt like they would win football games only if they got slightly distracted from their core purpose in life, the ruthless domination of every other entity in the known universe.Their teams were and still are cobbled together from the discard pile of the universe. The Raiders are happy to take risks on personnel other teams shy away from — legal problems, discipline problems, or simply oddballs. During the last fifteen years, the Raiders have been among the worst teams in football but despite that, they've never sunk quite as far as some of their low-lying brethren. No matter how much they lose, the Raiders mystique lives on, diminished, but still frightening.
Here is the their winning percentage in each season since their inception:

Who are some notable players or figures from the Oakland Raiders?
Al Davis is the most important figure in Oakland Raiders history. He was arguably more important to his team than anyone has ever been to a football team. He became the Oakland Raiders coach and general manager in 1963, before the team's fourth season. Davis was 33 years old and would spend the rest of his life, until his death at 82, creating and embodying the myth of the Raiders. By 1966, he was part-owner of the team. In the late 1970s and early 1980s, he was part of three championship teams. While this was happening, in the the early 1980s, he sued the NFL, (while being an active owner!!), after the league tried to stop him from moving the team to Los Angeles. He won.
Winning was the only thing for Davis. That seems trite and obvious to write about someone in sports, but it was more true for Davis than anyone else. Davis' philosophy is neatly summed up in his most famous quote, "just win, baby" and his second most famous, "the quarterback must go down, and he must go down hard" which neatly expressed how little he cared about anything that might get in the way of winning (like humanity or sympathy.) He didn't seem to care about anything else. This somewhat ironically allowed him to be a ground-breaker in a number of ways. He was the first NFL owner to hire a black head coach and a female executive.
His attitude and acts led him to be widely vilified while he was alive, but following his death in 2011, his image has softened and his reputation as an important figure, if not always a likable one, has recovered somewhat.
Where do the Oakland Raiders play?
The blind date test
Imagine you're about to go on a blind date and all you know about the person is that he or she is a Oakland Raiders fan. Here's what you can guess about that person. Remember that all fans are unique. We bear no responsibility for any misunderstandings we engender. Trust but verify.
First of all, expect the date to happen in a heavy metal or hard-core rap club. Your date will be wearing black leather, probably studded with metal. They will have a colorful past. Raiders fans can be good people, but just by the fact that they're Raiders fans, you know they enjoy having an air of badness. Expect, tattoos, piercings, and kink.
What will make a Oakland Raiders fan squirm?
Suggest that the Raiders are just a team like any other now and not a very good one. The Raiders haven't won for long enough now that the thing their true fans dread more than anything else is not more losing but the loss of identity that would make them "just like any other" losing team.
Buy Oakland Raiders Swag!
What do the Oakland Raiders look like?
Team colors are black and silver. Their current uniforms look like this.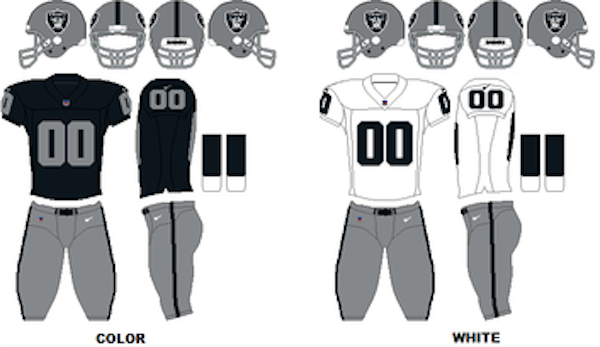 Current and recent teams
Coming soon — a post about the 2015 Oakland Raiders including an overview of their most interesting characters as well as what fans expect from the team this year.