In preparation for the rapidly approaching football season, Dear Sports Fan is publishing a series about the basics of football. Some previous posts answer the questions: Why Do People Like Football, How do I Begin to Enjoy Football, Why Are People Obsessing About Fantasy Football Now, and What's a Down in Football? This post is one in a series that explores each position on a football team. So far we've covered What is a Running Back in Football, What is a Quarterback in Football, and What is a Defensive Back in Football?. Today we move back to the offense to cover the Wide Receiver position.

What is a Wide Receiver in Football?

Wide receivers are among the most talented athletes in the world. They generally have world-class speed and quickness, strong hands, freakish reflexes and hand-eye coordination and NBA-quality leaping ability. Wide receivers line up on either side of the Offensive Line. There can be as many as five of them on a field for a given play – or there can be none. Their job is to run at a flat out sprint to catch a ball that can be thrown as hard as forty miles per hour and is frequently too high or too low, too far in front or too far behind. Even more than most other positions, wide receivers have to accomplish all this while eleven other physical freaks try to knock their head off.
When their team calls a passing play, the wide receivers run predetermined routes to get open so the quarterback can pass to them. There are several types of routes. Among the most common are the slant (basically run one yard up the field, then cut violently towards the middle at a 45 degree angle), the post (similar to a slant, except you run further up the field before cutting into the middle) and the fly (JUST RUN!!). If their team calls a running play, the wide receiver's job is to block the player across from them. For most receivers, it's not their favorite part of the game so you'll see a lot of half-hearted attempts to pretend to be blocking…
While an offense may run anywhere between sixty and seventy plays in an average football game, most receivers will not touch the ball more than a few times. They are entirely dependent on the quarterback getting them the ball. A running play will always result in the running back getting the ball; a pass play, even if it is designed to get the ball to a single receiver, gives a quarterback multiple options.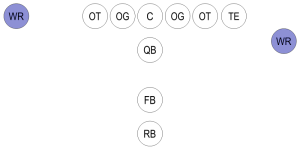 Wide receivers have a reputation for being divas in and out of the locker room. They tend to be the ones with out-sized personalities, the ones with well-publicized emotional outbursts, and the ones with reality shows. We think this might have something to do with how dependent they are. The receiver only ever gets to do his thing if a lot of other things have happened first:  the coach has  to call a play with them as an option, the offensive line has to protect the quarterback, the quarterback has to decide to throw to them and then has to execute the throw well enough to give the receiver a shot at the ball.
Some receivers are very outspoken about needing the ball — this attitude might be epitomized by the receiver Keyshawn Johnson who wrote a book called "Just Give Me the Damn Ball" in 1997. As is frequently the case among highly skilled performers, some of them can be a bit…quirky. Receiver Chad Johnson changed his name in 2006 to "Chad Ocho Cinco" which was a poor transliteration of his jersey number 85. His "projects outside of football" section on wikipedia includes "Smartphone apps, Dancing with the Stars, Versus, The Ultimate Catch, WWE, Major League Soccer, Professional Bull Riders event, Acting, and Other pursuits."
Still, the reputation of wide receivers as high-maintenance divas seems to have been tempered in recent years by the emergence of lower-key superstars like two unrelated Johnsons (Andre from the Houston Texans and Calvin from the Detroit Lions).
While there's some overlap, receivers generally play two slightly different positions: slot and not slot (this is the default for wide receivers and therefore both has too many names and no name) with two general styles: possession receivers and deep threats. The great receivers are usually a combination of all of them or are so incredibly skilled that they transcend a single category.
Slot Receivers
When there are more than two wide receivers on the field, they can't all be the farthest away from the center of the field. Any receiver that lines up between the widest wide receiver and the offensive line is said to be in the "slot." Players who more often than not line up there are slot receivers. The slot receiver deals with a more chaotic universe of overlapping routes, charging linebackers, and more complicated blocking assignments. Because it is harder for a receiver who lines up in the middle of the field to get wide open deep down the field, slot receivers often play with a possession style than a deep threat style.
Possession Receivers
Possession receivers are generally smaller, quicker and have more reliable hands. They're the type of player likely to be described as "shifty," as opposed to the type who relies on flat out speed. They run shorter routes that result in easier and safer throws and catches. Their goal is not to gain huge chunks of yards at once or score in a single play – instead, they run routes that get them the ball between 5-15 yards of the line of scrimmage. These plays are successful more consistently than those that involve throwing the ball farther down the field so receivers that specialize in them help their  team move the chains (get first downs) and keep the ball for longer offensive possessions.
Great possession receivers, however, can turn small gains into large gains by avoiding tackles after they've caught the ball. A receiver's Yards After Catch is a statistical measurement of this ability.
Example: Wes Welker (Denver Broncos, formerly of the New England Patriots) is the most talked about modern example.
Deep Threats
These receivers are fast. As in, "they probably ran track in college and are just a hair slower than Olympic sprinters" fast. Sometimes the defensive backs covering them will have a ten yard head start, will know the guy is going to try and run past him…and will still not be able to keep up. There's not much else to say about them: they line up, they run as fast as they can and they try to get behind the defense. Sometimes these receivers leave a bit to be desired in the hands (catching ability) department because teams place such a premium on speed.
Deep threats catch fewer passes because throwing the ball 30-40 yards is a lower-percentage proposition than throwing it 5-10 yards. But each catch is usually spectacular and can have a huge impact on the game.
Examples: Mike Wallace, Desean Jackson