In preparation for the rapidly approaching football season, Dear Sports Fan is publishing a series about the basics of football. Some previous posts answer the questions: Why Do People Like Football, How do I Begin to Enjoy Football, Why Are People Obsessing About Fantasy Football Now, and What's a Down in Football. This post is one in a series that explores each position on a football team. So far we've covered What is a Running Back in Football, What is a Quarterback in Football, What is a Defensive Back in Football, What is a Wide Receiver in Football, What is a Defensive Lineman in Football, What is a Linebacker in Football, and What is an Offensive Lineman in Football. Today we cover the last remaining position in What is a Tight End in Football?
What is a Tight End in Football?
Watching a good tight end is one of the joys of football. To channel Groucho Marx as well as some of my straight female and gay male friends who watch football, watching good tight ends — also one of the joys of watching football. Phew. Now that we got that joke done with right at the top of the post we can proceed in answering the question about what the football position tight end is all about.
The tight end is a hybrid position somewhere between a wide receiver and an offensive lineman. The wide receiver's main job is to run down the field and catch passes from the quarterback. The offensive lineman's job is to protect the quarterback when he is passing and to block defensive players out of the way of the running back when the team decides to run.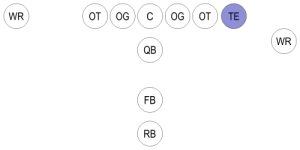 Tight ends get their name from where they line up at the start of a play. They are the closest offensive player horizontally on the field to the offensive line. They are close (tight) to the end of that line, but how tightly they line up varies depending on the play. Much of the time tight ends are almost indistinguishable from the offensive line because they line up right at the end of the line and start with their hands on the ground, just like the linemen. In other plays the tight end will line up separated from the end of the offensive line and will be upright like a wide receiver would be. Teams usually play with one tight end on the field at a time although a few teams like the Patriots have been using more formations with two tight ends simultaneously in recent years. When two are on the field at once, one usually lines up on the line and another like a wide receiver.
As we've mentioned before during this series on positions, football has gradually become more focused on passing in the last thirty years. The tight end position has been affected by this evolution so much so that you could almost call it a revolution, as writer Bill Barnwell did in this Grantland.com piece. Although there are no commonly recognized positional distinctions among tight ends, there are more players in the position who specialize in catching passes in the NFL than ever before.
Receiving Tight Ends
Tight ends who are primarily on the field to catch passes can be referred to as receiving tight ends. They are likely to have slighter builds than their blocking brethren. Ever since two college basketball players, Tony Gonzalez and Antonio Gates[1] revolutionized the position, a surprising number of receiving tight ends have been former basketball players. There are some common sense reasons for this. Tight ends, even the receiving ones, need to be big enough to stand up to strong defensive players when blocking. Tall basketball players, like power forwards, tend to have frames that can add muscle and weight. Tight ends also use their height to advantage when catching passes. Tight ends tend to run pass routes in the middle of the field where they are less likely to get open. More often they turn to face the quarterback and use their bodies keep the defensive player from getting to the ball before it's safe in their hands. This mimics the body positioning a basketball player uses when he "boxes out" another player to try to get a rebound.
Blocking Tight Ends

Blocking tight ends are more like offensive linemen than wide receivers. They are big men, able to push a defensive end or linebacker off the line to make room for a running back or to protect a quarterback. Unlike offensive linemen who are by rule ineligible to run past the line of scrimmage and catch a pass, the blocking tight end can, when the defense least expects it, run out and get open to receive a pass. In this way, blocking tight ends are among the sneakiest football players. Tight ends will often block for a second or pretend to block before sprinting out into space. Defenses who get fooled by the tight end may not react quickly enough to stop the quarterback from throwing an easy pass to the wide-open tight end. It's not unheard of for a team to use a predominantly blocking tight end by having him pretend to trip, lie on the ground for a second, and then run into the end zone to catch a touchdown.
Fantasy Football Implications

Tight ends are among the most stratified positions in fantasy football. There are so few great receiving tight ends (fantasy leagues have yet to figure out how to reward for blocking skill) and the few greats have such better statistics than the average, so having one of the best tight ends in the league on your fantasy team can be a big advantage. Right behind the top two or three tight end talents though, there's not a ton of difference between number five or six and number eighteen, so fantasy owners who don't get a top guy will often wait until the very end of their drafts to pick one.
Footnotes
(↵ returns to text)
Gates shockingly did not even play football in college.↵