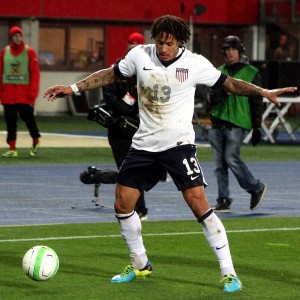 Recently Major League Soccer, the top professional soccer league in the United States did something which raised eye-brows and exposed one of its oddest elements, its organizational structure. If you remember anyone from the United States Men's World Cup team from earlier in the summer, it's probably goalie Tim Howard. But if you remember anyone else it might be Jermaine Jones the dreadlocked maelstrom of a midfielder who was probably the best non-goalie on the team for the duration of the tournament. Jones is one of our many German-American players. He grew up in the United States but moved to Germany as an adolescent and began his professional career there as a fourteen year old (which is not rare for German players). He's spent his entire career in Germany and Turkey but became interested in playing and perhaps finishing his career in the United States. And that's where the weirdness began.
Major League Soccer has a "single entity-structure" in which, according to Wikipedia, "teams and player contracts are centrally owned by the league." Most other leagues in the United States are connected, but much more loosely, like a neighborhood association connects property owners throughout the country. Instead of operating independently on the important things and in unison when necessary, Major League Soccer operates independently until the decisions become important. This type of structure is familiar to me only from living in a co-op apartment building where I am a "tenant-owner" the same way that Robert Kraft (who owns-owns the New England Patriots football team) is an investor-operator. Through this peculiar organization, the signing of Jones became an assigning. 
The MLS team most interested in Jones was the Chicago Fire and had been pursuing him for months. According to MLS rules, most players are able to negotiate and sign with teams of their choosing if they are free agents. Players who fit this description, as a "U.S. National Team player who signs with MLS after playing abroad" however, have to go through an "allocation order" where teams that did worse in the previous year have first dibs until they sign a player that fits that description. Then they drop to the bottom of the list. Okay, that's a little arbitrary, but I can see what they're going for there. But what is this? There's an asterisk? 
*Designated Players of a certain threshold – as determined by the League – are not subject to allocation ranking.
That, my friends, is an elastic clause if I've ever seen one. So, in some cases, the league can just bypass the rules and do whatever it likes. In this case, MLS decided to have Jones skip the allocation process and they decided to choose between the two teams interested in him with a coin-flip! The two teams were the Chicago Fire and the New England Revolution (it boggles the mind to believe that these were the only two teams who wanted him, but…) and the Revolution won the coin flip.
Not only does this feel anti-competitive and arbitrary, but as Barry Petchesky argues in his Deadspin.com article about the assignment, it's "shockingly anti-labor. If MLS wants to be the league of choice for the world's best players, it'd better start allowing those players to choose their situations." I couldn't agree more. The worst thing a sports league can do is create the appearance of favoring one team over another or one player over another from an organizational standpoint. The NBA lives and flourishes with a little bit of this sentiment thanks to conspiracy theorists who think the draft lotteries are fixed or the refs are instructed to favor big-market teams. Too much of it can only lead to bad things, like the UFC's recent issue with President Dana White's removal of a judge mid-fight. The perception of true competition is essential for the enjoyment of sports.