Now that I'm writing this blog close to full time, it's more important than ever that it actually serves its purpose of helping non-sports fans or casual sports fans navigate our sports obsessed culture. I've had a few nice moments of confirmation this week that I thought I would share with you.
A former colleague of mine at Return Path emailed me to say she was about to do her first fantasy football draft and to ask for help preparing. When I sent her the two Dear Sports Fan posts on the topic, "How to enjoy a fantasy football draft?" and "What are some tips for your first fantasy football draft?" she said she had already read those! What other advice did I have for her? In response to a related post I wrote recently on "Why are fantasy football drafts so exciting?", a college classmate of mine wrote on Facebook, "I just started to accept that it was knowledge that I'd never attain, until I read your article!" Awesome! 
I'm confident that if Dear Sports Fan content can help and interest a readership made up of mostly friends, family, and former colleagues, it would be interesting and helpful to a wider group if I can get it out to them. The other side of the site's traffic is the small but consistent number of people who, in curiosity or frustration, go to their phones or computers and type a question about sports into google. Here's a glimpse into some of the questions they asked yesterday that they found an answer to on Dear Sports Fan: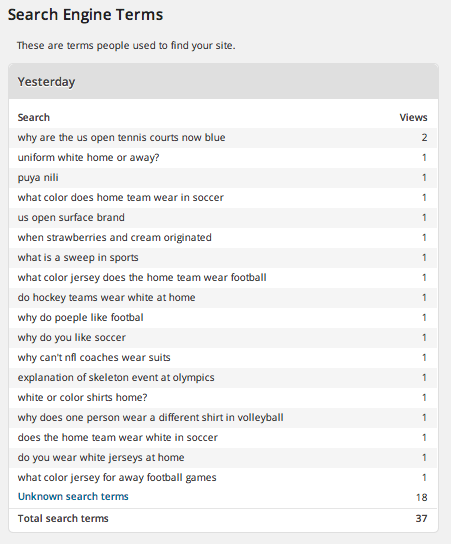 It's so cool to be a reference for random people around the world who are wondering about sports. Also about my college friend Puya, whose name must appear somewhere on the site. Huh!