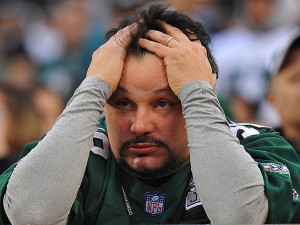 For sports fans, the weekend is a cornucopia of wonderful games to watch. This is particularly true in the fall with its traditional pattern of College Football on Saturday and NFL Football on Sunday and Monday. As the parent, child, girlfriend, boyfriend, partner, husband, wife, roommate, or best friend of a sports fan, this can be a challenge. It must be true that some games are more important to watch than others but it's hard to know which is which. As a sports fan, the power of habit and hundreds of thousands of marketing dollars get in the way of remembering to take a break from sports and do something with your parent, child, girlfriend, boyfriend, partner, husband, wife, roommate, or best friend. To aid all of us in this, and just because it's fun, I'm going to write a weekly post on Friday highlighting a single game that is ideal for skipping. Use this to help tell yourself or someone else: "Do not watch this game!"
Monday, 7:10 p.m. ET, NFL Football, Detroit Lions vs. New York Giants. It's on ESPN but do not watch this game!
Monday night is traditionally one of the biggest, most important, most exciting football games of the week. Alone, on prime time, the Monday night game has a cache all to itself. Except, on the first weekend of the NFL season, there are two Monday night games. There is a game that starts earlier than normal, at 7:10 p.m. ET and another that starts at 10:20 p.m. ET. This makes them both feel a little less important. Not only is the game between the Giants and the Lions not alone on Monday, it's not even the last game of the week. This means that it's less likely than any other Monday night game to be a final, deciding factor in a fantasy football matchup.
Nor is this a premium matchup. The two teams playing are resolutely mediocre. Both teams won seven games and lost nine last year. Vegas Super Bowl odds, as of today, suggest that the Lions would win the championship only once if the season were played 42 times. The Giants are said to be even less likely, at 65 to 1. Sports books also set an over/under for the number of wins during the regular season a team will win. Before the season you can bet on whether a team will over or underperform what Vegas thinks it's going to do. The Lions' number is 8.5 wins, the Giants' is 8. The quarterbacks last year threw the most (Giant Eli Manning with 27) and sixth most (Lion Matt Stafford with 19) interceptions in the league.
From a social or relationship standpoint, the Monday game this weekend is the perfect time to skip a game. Even the most easygoing, agreeable, casual sports fan partner or parent or whatever is likely to be a little fatigued from the first full weekend of football. Take early Monday night and have a nice dinner and relax and do not watch the game between the Giants and the Lions. It'll be okay.
Of course, if you or the fan in your life is a New York Giants or Detroit Lions fan, this isn't a good game to skip. As an alternate, skip the Sunday, late afternoon game between the San Francisco 49ers and the Dallas Cowboys. Why? Because the Cowboys have the worst defense in the league and the 49ers are still good enough to beat them but not good enough to be must-watch TV.