Dear Sports Fan,
Why do people like fencing? I went to my cousin's fencing tournament and I couldn't follow it at all. It looked like people just jumping at each other and arbitrarily scoring. What am I missing?
Thanks,
Frances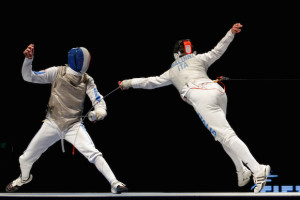 — — —
Dear Frances,
Good for you for supporting your cousin, even if it was hard to tell what was going on and to enjoy the fencing tournament. You're absolutely right that fencing can be bewildering to watch if you don't know what's going on or are far away. That said, there are lots of good answers to your question of "why do people like fencing?" Here are just a few:
So, there you have it — five answers to the question, "Why do people like fencing?" I hope these give you a reason to go back to your cousin's next fencing tournament or even think about starting to fence yourself! If you're interested, U.S. Fencing is a good resource for finding a fencing club near you.
Thanks for reading,
Ezra Fischer