Cue Cards is a series designed to assist with the common small talk about high-profile recent sporting events that is so omnipresent in the workplace, the bar, and other social settings.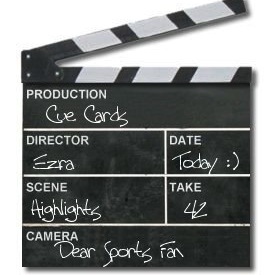 Yesterday —  Sunday, September 7
Ray Rice Released — TMZ.com released video of NFL player Ray Rice assaulting his then fiancee in an elevator. The emotional (and PR) power of the video led to Rice being immediately released by his team and suspended indefinitely by the league. A full summary and my take on this can be found here.
Line: Ray Rice was unequivocally in the wrong since the minute he struck his fiancee but the law and the NFL didn't have to be. Their inappropriate response now puts them at the center of this story.
U.S. Open Winner — Marin Cilic defeated Kei Nishikori in the men's finals of the U.S. Open. The U.S. Open is the last of the four major tournaments of the year, so, although tennis season officially continues, casual coverage of it basically stops until next Spring. As pointed out by Kyle Jurczak on Fancred, Cilic won in three straight sets, all six games to three, which was the same score Serena Williams won her straight set final in. Weird! Also from Kyle, this means that 2014 saw eight different people win the eight (four men's, four women's) available major tournaments. Weird!
Line: Did you know [insert one of Kyle's cool stats here.]
The last two NFL games (until Thursday) — I'm not sure why but for some reason the NFL always starts with two Monday night football games on the first weekend of the professional football season. Maybe it's shock treatment to get used to having football back in our lives? The earlier game between the Giants and the Lions was a yawn, as predicted by it being featured in our Do Not Watch This Game column, but the second game was a close one that came down to the last few minutes. The Arizona Cardinals just squeaked by the San Diego Chargers, 18 to 17.
Line: It's too soon to make any real conclusions from week one. The Cardinals and Chargers might both be really good or both be pretty mediocre. The Lions could be great or the Giants could be so terrible that they made them look great.