There's something about sports that encourages a pursuit of completeness. Sports fans seem to like knowing everything about something. It's not often that you hear them talk about knowing some of the starters from an old championship team by heart or wanting to learn the history of a few teams in a league. Nope, sports fans want to know everything about their favorite team, they want to collect all of the baseball cards from the 1972 Expos, they want a photo collage of all the uniforms in their team's history. Nowhere is this drive for completeness more obvious than in today's featured source of gifts for sports fans, EveryPlayerInTheLeague.
EveryPlayerInTheLeague is an art project by Seattle-based illustrator Matthew Hollister. His mission is to create an illustrated rectangular drawing of every basketball player in the National Basketball Association. I love his style. The bulk of the image is in a arch shaped frame. Hollister shows his knowledge about the league by capturing the personalities of each NBA player by showing them doing some action characteristic to them. The backgrounds are made up of partially abstract shapes that are evocative of NBA stadiums while also seeming kind of funky in a 1960-70s kind of way. Team colors are used throughout, within the images and on the periphery of the artwork where they adorn the player's name as well has his team's.
Here are a few of my favorite pieces:
Tim Duncan – The Big Fundamental, keeping the ball up at his elbow where it's far from the hands of prying defenders.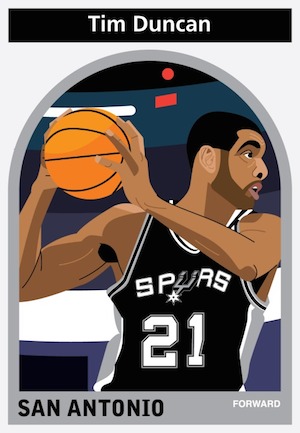 Blake Griffin – This one concentrates not on Griffin's dynamic athleticism but on his hunted quality. For some reason, people in the NBA love to do nothing more than antagonize Griffin and this image captures his reaction.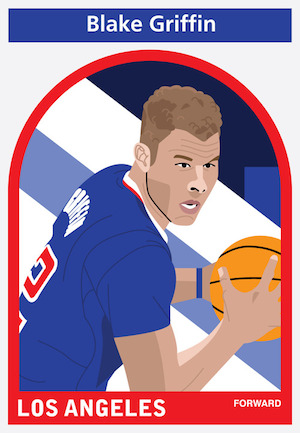 Stephen Curry – Curry is the deadliest shooter in the league. This drawing catches him in mid-shot, fully concentrated on sinking another three-pointer despite the effort of the players guarding him.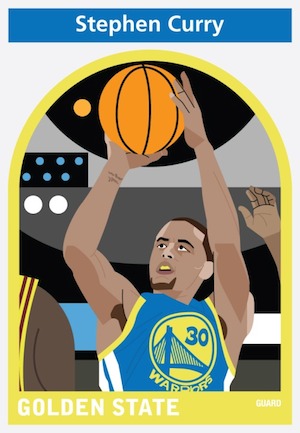 Kevin Garnett – Garnett is the league's longest running and most enjoyable freak show. Even at 28 years old, entering his 20th season, he's the most intense guy out there. ALL THE TIME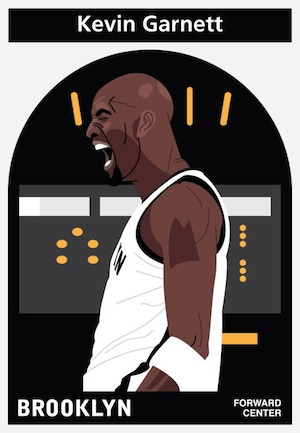 DeMarcus Cousins – Cousins is a divisive player. People either love him or hate him. He's got incredible talent but also a big streak of self-destruction. He tantalizes the fans with his skills and annoys them with his attitude. I love how Hollister captures the duality of Cousins throughout the image, even using a two-toned uniform to cement the characterization.
Kenneth Faried – Faried is all over the place all the time, hair and elbows flying. He's a prime example of a player who earns his keep by hustling all the time, Faried just happens to be supremely talented as well. He starred on the US World Cup of Basketball team this summer and I'm looking forward to seeing him grow as a player this year.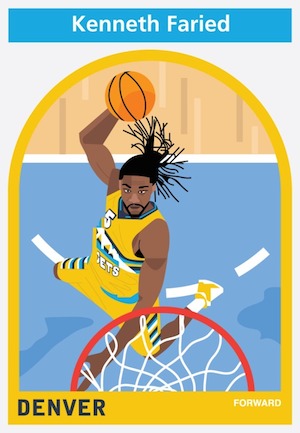 You can pick up some of Hollister's artwork in his shop at Society6. He doesn't seem to have all of his prints for sale but my guess is that you could request a particular player if you had your heart set on him. The prints are for sale as art prints for $17.68, framed art prints for $35, and the always elegant canvas print for $85.
Happy browsing, happy buying!