One of the most disconcerting aspects of traveling to a country whose language you don't know is how the most commonplace things become indecipherable. Ask a stranger for directions and she may think to explain tricky vocabulary but she'll almost never think to describe whether the place she just referred to is a city, train station, library, cafe, or all of the above. The same is true for sports natives. A thoughtful sports fan should be willing and able to explain a rule, but he'll almost never think of explaining who a particular team is, what sport they play, or the team's history and characteristics. In this series, we'll do just that — describe what is unique about each sports team.
San Francisco 49ers – the basics
Sport – Football
League – National Football League (NFL)
Conference – National Football Conference (NFC)
Division – NFC West
History – As befitting a team named for a gold rush which brought thousands of pioneers to the West Coast, the San Francisco 49ers are pioneers themselves. Founded in 1946, the 49ers were the first professional football team in the western united states. They joined the NFL in 1957. In 1977 the team was sold to Edward J. Bartolo Jr. whose family still owns the team (along with the Yorks) today. Soon after the team changed hands, they launched themselves into a period of 18 years from 1981 to 1998 during which they won fewer than 63% of their games only once and won five Super Bowls and revolutionized how football is played.
Championships – The San Francisco 49ers have won five championships during an 18-year period of sustained excellence: 1981, 1984, 1988, 1989, and 1994.
Rivals – As you might expect from a team that won so much for so long, the 49ers have a lot of rivals. Some are against other traditionally strong teams like the New York Giants, Dallas Cowboys, and Green Bay Packers. Others are against current divisional or geographic rivals, like the Oakland Raiders, the Seattle Seahawks, and the St. Louis Rams.
The San Francisco 49ers are members of a small circle of football teams that feel like football royalty. Especially for people whose formative football years fell between 1981 and 1998, the 49ers are synonymous with amazing coaching, great quarterbacking, and perennial winning.
Here is the their winning percentage in each season since their inception:

Who are some notable players or figures from the San Francisco 49ers?
Bill Walsh was the head coach of the San Francisco 49ers from 1979 to 1988. Under his guidance, the team won its first three Super Bowls and went a combined 92-59-1. Football can be read as a conflict between rational, innovative intellect and brute strength and tradition. If you choose to read it that way, there's no stronger argument for the first approach than Bill Walsh. His key innovation was to realize that short passes move the ball farther down the field than the average run play but if done by a well practiced offense, are not significantly more risky. That's a massive simplification and, because this practice has, since the time of Walsh, become fairly routine under the name of "West Coast offense," it may seem unexciting. At the time, it was a tactical breakthrough of Gaussian proportions. Walsh died in 2007.
Joe Montana was the first professional quarterback to benefit from Walsh's innovative offense. It's possible that no one has executed it better since Montana. Nicknamed "Joe Cool" and "The Comeback Kid" because of his penchant for playing well when the stakes were the highest, Montana ended his career with 31 wins when his team entered the fourth quarter of a game trailing. That's 16% of his games! A seemingly unspectacular athlete, he was drafted in the third round of the 1975 NFL draft. He won a fourth Super Bowl in 1989 and picked up his third NFL MVP award in that game as well. [Editor's note: I believe this was the first football game I ever watched.] Montana is widely thought of as one of the top quarterbacks in NFL history and still revered to this day.
Jerry Rice is the greatest wide receiver in NFL history. Small for a wide receiver, Rice made his plays by being more precise than everyone else and by barely ever dropping a ball that came his way. His style was perfect for the Bill Walsh/Joe Montana 49ers West Coast offense. Rice claims that his strong and reliable hands were developed as a kid when he and his brother would throw bricks two stories up at building sites to help out his father who was a mason. One of the unique aspects of Rice's career is that he played so long that he was still actively playing in what people would otherwise have thought of as the "post-Jerry Rice era." He retired in 2005 after 20 years in the NFL. He still owns virtually every receiving record worth having.
Where do the San Francisco 49ers play?
The blind date test
Imagine you're about to go on a blind date and all you know about the person is that he or she is a San Francisco 49ers fan. Here's what you can guess about that person. Remember that all fans are unique. We bear no responsibility for any misunderstandings we engender. Trust but verify.
Did your date just order the lobster? Don't be surprised. 49ers fans are used to the best that life has to offer. Sure, they went through more than a decade of uninspiring teams, but their team never lost the sense of greatness that its colors and logo carry around.
What will make a San Francisco 49ers fan squirm?
Refer to the team as the "Santa Clara 49ers." In 2014 the team moved from its traditional home within San Francisco city limits out to a new stadium in nearby Santa Clara. This was so antithetical to many local fans and politicians that a lawsuit or evan law change barring the team from using the "San Francisco" moniker was threatened before eventually being dropped.
Buy San Francisco 49ers Swag!
What do the San Francisco 49ers look like?
Team colors are red, gold, and white. Their current uniforms look like this.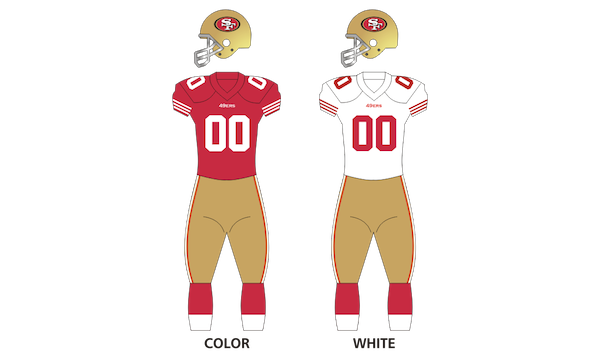 Current and recent teams
Coming soon — a post about the 2015 San Francisco 49ers including an overview of their most interesting characters as well as what fans expect from the team this year.