One of the most disconcerting aspects of traveling to a country whose language you don't know is how the most commonplace things become indecipherable. Ask a stranger for directions and she may think to explain tricky vocabulary but she'll almost never think to describe whether the place she just referred to is a city, train station, library, cafe, or all of the above. The same is true for sports natives. A thoughtful sports fan should be willing and able to explain a rule, but he'll almost never think of explaining who a particular team is, what sport they play, or the team's history and characteristics. In this series, we'll do just that — describe what is unique about each sports team.
St. Louis Rams – the basics
Sport – Football
League – National Football League (NFL)
Conference – National Football Conference (NFC)
Division – NFC West
History – The St. Louis Rams have a long and migratory history. They were established in 1936 in Cleveland Ohio, where their owners, a lawyer named Homer Marshman and a player/coach/owner Damon Wetzel decided to name them the Rams because they admired football players who came out of Fordham University in New York. Weird. Ten years later, the team moved to Los Angeles, where it would play until 1980 when it moved to nearby Anaheim. After another 14 years there, the team moved to its current location in St. Louis. These days there are rumors that the current owner, Stan Kroenke, wants to move the team back to Los Angeles.
Championships – The Rams won two NFL championships in 1945 and 1951 before the merger between the NFL and AFL which ushered in the modern era of the league. They also won Super Bowl XXXIV in 1999. They are the only team to have won a championship in three different cities.
Rivals – The San Francisco 49ers are the Rams primary rival, although it's a slightly lopsided rivalry in terms of winning and primacy. The Rams might only be the 49ers third or fourth most hated rival and since 1980, the 49ers have won 46 of the 71 games the two have played. When the Rams moved to Anaheim, the Oakland Raiders moved to their old stadium in Los Angeles, so during that period those two teams were intense rivals.
The Rams rich history is obscured by the current long period of dismal play (1o years and counting now without a winning record) and by their itinerant past and uncertain future. Still, they have a lot to be proud of. They were the first team to televise their home games, starting in 1950. Two years earlier, they became the first team to put a design on their helmets — the unique ram-horn design which they still use today – and even cooler, it was designed by an active player on the team. They're also notorious for fierce and tough defensive players. In the 1960s, their four-man defensive line was known as "The Fearsome Foursome" which is an awesome nickname, and in the 70s their defense was led by Jack Youngblood, who famously played through a broken leg, and Jack "Hacksaw" Reynolds whose nickname was Hacksaw! In the late 90s, early 2000s, the team had a brief resurgence with a very different style. Those teams, who won the Rams sole Super Bowl, played a wide open offensive passing game that got them the nickname, "The Greatest Show on Turf."
Here is the their winning percentage in each season since their inception:

Who are some notable players or figures from the St. Louis Rams?
Deacon Jones was the leader of the "Fearsome Foursome" defensive line that terrorized opponents in the 1960s. Jones was such a revolutionary defensive player that he actually coined one of the sport's most important defensive terms, the sack. Here's Jones on why he called tackling the quarterback a sack: "You take all the offensive linemen and put them in a burlap bag, and then you take a baseball bat and beat on the bag. You're sacking them, you're bagging them. And that's what you're doing with a quarterback." One of the signature moves he used to get to quarterbacks was a giant, violent, open handed slap to the the head of the offensive lineman opposite. This was so effective that it was later banned.
Eric Dickerson played running back for the Rams for only a short time, from 1983 to 1987, but they were memorable years. During that period, he set NFL rushing records which still stand today. His regular season rushing records of 1,808 for a rookie and 2,105 have rarely been threatened since he set them and, given how pass-happy the NFL has become, probably won't be for some time. Likewise, his rookie record of 18 rushing touchdowns. Dickerson is not always brought up when the subject of greatest running backs of all time comes up, but he should be.
Where do the St. Louis Rams play?
The blind date test
Imagine you're about to go on a blind date and all you know about the person is that he or she is a St. Louis Rams fan. Here's what you can guess about that person. Remember that all fans are unique. We bear no responsibility for any misunderstandings we engender. Trust but verify.
They're from St. Louis. Or Los Angeles. Or Anaheim. Basically no matter what era of Rams your date is a fan of, they're probably harboring a fair amount of resentment or anticipated disappointment. Each move the Rams have made has hurt their fans and they're all set up to make another one. If your date seems like an upbeat person, then they've done that despite of their team. That's a good sign!
What will make a St. Louis Rams fan squirm?
You've got two options here. If the fan you're trying to make squirm was a fan of the team in Los Angeles, then they're probably in almost a constant state of squirm because they're still mad that the team left the area to go to St. Louis in 1994. Of particular insult to Los Angeles/Anaheim Rams fans was the fact that the franchise kept its name and colors exactly the same after it moved. You can get them to squirm a little more by feigning ignorance of the team's history before the St. Louis era. For newer Rams fans — ones that have only ever known the team in St. Louis — the easiest thing to do is to prey on the team's decade-long streak without a winning season. Enjoy!
Buy St. Louis Rams Swag!
What do the St. Louis Rams look like?
Team colors are Millenium Blue, New Century Gold, and white. Their current uniforms look like this.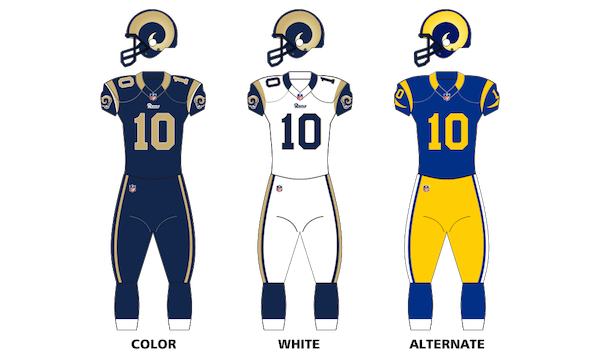 Current and recent teams
Coming soon — a post about the 2015 St. Louis Rams including an overview of their most interesting characters as well as what fans expect from the team this year.