One of the most disconcerting aspects of traveling to a country whose language you don't know is how the most commonplace things become indecipherable. Ask a stranger for directions and she may think to explain tricky vocabulary but she'll almost never think to describe whether the place she just referred to is a city, train station, library, cafe, or all of the above. The same is true for sports natives. A thoughtful sports fan should be willing and able to explain a rule, but he'll almost never think of explaining who a particular team is, what sport they play, or the team's history and characteristics. In this series, we'll do just that — describe what is unique about each sports team.
Arizona Cardinals – the basics
Sport – Football
League – National Football League (NFL)
Conference – National Football Conference (NFC)
Division – NFC West
History – The Arizona Cardinals are the oldest continuously run professional football team in the United States. They were founded in 1898 on the South Side of Chicago. They were purchased in 1932 by successful and suspicious businessman, Charles Bidwill, who was rumored to have ties with Al Capone. The team is still in the Bidwill family (now thoroughly respectable) today. In 1960, the Bidwill family moved the team to St. Louis, where they played until 1988 when the family again moved the team, this time to Phoenix, Arizona.
Championships – For as long as the Cardinals have played, they have a shockingly small number of championships. They claim to have won in 1925, although that fact is disputed hotly by whatever fans of the Pottsville Maroons there are left. The Cardinals won the NFL championship in 1947, well before the creation of the Super Bowl. In the Super Bowl era, the Cardinals have never won.
Rivals – Throughout their history, the Cardinals have had many different rivalries. In Chicago, a city they shared with the Bears, those were their main rivals. While in St. Louis, the team played in what is now the NFC East division and the Cardinals developed rivalries with the Dallas Cowboys, Washington Redskins, New York Giants, and Philadelphia Eagles. These days, the Cardinals play in the NFC West against the Seattle Seahawks, St. Louis Rams, and San Francisco 49ers. The result is a team with many unfriendly match-ups but no real deep rivalries.
The Cardinals are a venerable laughingstock. They carry all the trappings of a traditional NFL powerhouse, they just don't win like one. They're not romantically cursed like some long-time losing baseball teams, they just don't win. Their modern history has been exemplified by an angry coach, being on the losing end of one of the most exciting Super Bowls of all time, and completely failing since then to find a half-decent quarterback to complement the team's excellent defense.
Here is the their winning percentage in each season since their inception:

Who are some notable players or figures from the Arizona Cardinals?
Dick "Night Train" Lane was a Hall of Fame defensive back who played for the Cardinals from 1954 to 1959. Despite playing in an era with shorter seasons, he still holds the record for most interceptions in a season (14). His nickname comes from his habit of taking trains to away games because of a fear of flying. He was the last of jazz singer Dinah Washington's seven husbands. Lane died in 2002 of a heart attack after several years of bad health due to knee injuries, CTE, and diabetes.
Pat Tillman played linebacker and defensive back for the Cardinals from 1998 to 2001. Instead of returning for the 2002 season, Tillman decided to join the army, where he and his brother (who gave up a potential professional baseball career to enlist) became Army Rangers. Tillman was killed in 2004. Thanks in part to Tillman's celebrity, the details of his death were subject to a range of misdirection and cover up. Although originally announced as a victim of enemy fire, Tillman now appears to have been shot by members of his unit, possibly by accident but also possibly on purpose. In life, Tillman was committed to not having his decision to leave the NFL to join the army used for political purposes. In death, his story quite certainly became a subject of political and religious propaganda, despite his family's best attempts to prevent it.
Where do the Arizona Cardinals play?
The blind date test
Imagine you're about to go on a blind date and all you know about the person is that he or she is a Arizona Cardinals fan. Here's what you can guess about that person. Remember that all fans are unique. We bear no responsibility for any misunderstandings we engender. Trust but verify.
Got a droopy eye? Or a limp? Carrying a few extra pounds? You're lucky you're dating a Cardinals fan. Cardinals fans are among the best in the world at looking at something imperfect and seeing it as beautiful. They have to do it with their football team, why not with their date?
What will make a Arizona Cardinals fan squirm?
This one is easy. All you have to do is mention a decent quarterback's name and even the most strong-willed Cardinals fan will begin to mutter to themselves and head to the library to learn ancient Macedonian conjuring spells.
Buy Arizona Cardinals Swag!
What do the Arizona Cardinals look like?
Team colors are Cardinal Red, white, black, and although it does not appear in their uniforms these days, yellow. Their current uniforms look like this.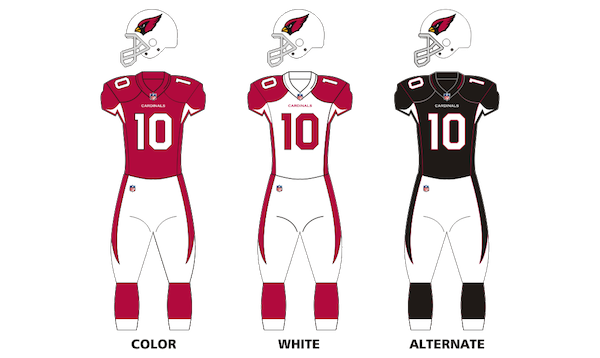 Current and recent teams
A post about the 2015 Arizona Cardinals including an overview of their most interesting characters as well as what fans expect from the team this year.