One of the most disconcerting aspects of traveling to a country whose language you don't know is how the most commonplace things become indecipherable. Ask a stranger for directions and she may think to explain tricky vocabulary but she'll almost never think to describe whether the place she just referred to is a city, train station, library, cafe, or all of the above. The same is true for sports natives. A thoughtful sports fan should be willing and able to explain a rule, but he'll almost never think of explaining who a particular team is, what sport they play, or the team's history and characteristics. In this series, we'll do just that — describe what is unique about each sports team.
Washington Redskins – the basics
Sport – Football
League – National Football League (NFL)
Conference – National Football Conference (NFC)
Division – NFC East
History – The Washington Redskins started in 1932 as the Boston Braves, sharing a stadium with a baseball team of the same name. When they moved across town to play in Fenway Park, the home of the Boston Red Sox, the football team changed its name to the Boston Redskins. The name stuck through the team's move from Boston to Washington D.C. 1937 and has remained the same since then. The Redskins have had two major periods of success. From 1935 to 1945, the team played in six championship games and won two. From 1982 to 1991 the team played in four Super Bowls and won three.
Championships – The team won two championships in the pre-Super Bowl era, one in 1937 and one in 1942. They also won three Super Bowls in 1982, 1987, and 1991.
Rivals – Virtually every link in the traditional NFC East is a rivalry and this is true for the Redskins, who carry strong animosities for the Dallas Cowboys, New York Giants, and Philadelphia Eagles.
The Redskins are a traditional power fallen on hard times. It's interesting to see how long their air of success can hold out despite losing teams, dysfunctional management, and a simmering scandal about the team's name. Although the team's name has been threatened before by activists who think it should be changed because of its obviously racist history, never before the past few years has a name change seemed so inevitable.
Here is the their winning percentage in each season since their inception:

Who are some notable players or figures from the Washington Redskins?
Daniel Snyder bought the team in 1999 and things have basically been downhill since then. Since 1999, the team has only had three winning seasons and has never won or even gone to a Super Bowl. Snyder is known as a meddling owner who spends frivolously on expensive, big-name free agents, who play worse for the Redskins than for their previous teams. He's also historically quick on the trigger to fire coaches. In the 16 years under his ownership, the team has had eight head coaches. In recent years, Snyder has seemingly reformed, backing away from the football side of the business and giving his head coaches and general managers a little more autonomy. Snyder is also a controversial figure because of his strong defense of the team's name from charges of racism.
John Riggins  is very possibly the most beloved player in Redskins history. A strong running back, he was instrumental in the team's first Super Bowl victory, during the 1982 season. He had played for the team from 1976 – 1979 but sat out the 1980 season because of a contract dispute with team management. He returned to the team in 1981, telling media, "I'm bored, I'm broke, and I'm back." In 1982, he helped drive the team to the Super Bowl where he set what was then an NFL record by rushing for 166 yards to help the Redskins win their first championship in modern NFL history. He still holds several records for "oldest player to do _____" including rushing for 150+ yards in a game, rushing for three touchdowns in a game, and most games with 20+ rushing attempts after his 35th birthday.
Where do the Washington Redskins play?
The blind date test
Imagine you're about to go on a blind date and all you know about the person is that he or she is a Washington Redskins fan. Here's what you can guess about that person. Remember that all fans are unique. We bear no responsibility for any misunderstandings we engender. Trust but verify.
One thing you can tell, if it wasn't already obvious from your date's appearance, is that they are 35 years old or older. Basically no one in their right minds (unless they live near Washington D.C. or inherited it from their parents) would choose to become a Redskins fan. There's also a slim but very real possibility that they like to dress up as a cross between a hog and a woman. If this is the case, marry immediately.
What will make a Washington Redskins fan squirm?
The low-hanging fruit here is the name controversy. Redskins fans on either side are so tired of addressing it. Your other option is to bring up the ill-fated decision of team management to play quarterback Robert Griffin III, who had just had an incredibly promising rookie season, through a knee injury. He played, the team lost, and he injured his knee much worse, so much so that it's not clear if his career will ever get back on track.
Buy Washington Redskins Swag!
What do the Washington Redskins look like?
Team colors are burgundy, gold, and white. Their current uniforms look like this.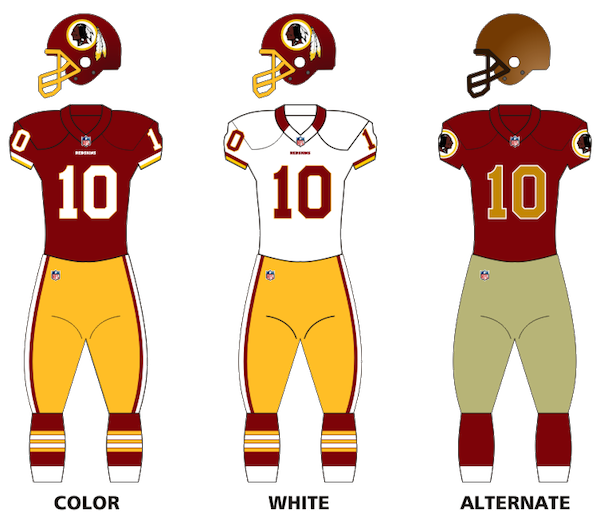 Current and recent teams
Coming soon — a post about the 2015 Washington Redskins including an overview of their most interesting characters as well as what fans expect from the team this year.