One of the most disconcerting aspects of traveling to a country whose language you don't know is how the most commonplace things become indecipherable. Ask a stranger for directions and she may think to explain tricky vocabulary but she'll almost never think to describe whether the place she just referred to is a city, train station, library, cafe, or all of the above. The same is true for sports natives. A thoughtful sports fan should be willing and able to explain a rule, but he'll almost never think of explaining who a particular team is, what sport they play, or the team's history and characteristics. In this series, we'll do just that — describe what is unique about each sports team.
Chicago Bears – the basics
Sport – Football
League – National Football League (NFL)
Conference – National Football Conference (NFC)
Division – NFC North
History – The Chicago Bears history began in 1919, 180 miles out of Chicago in the town of Decatur as the Decatur Staleys, named after the A. E. Staley "food starch" company. They are one of two original NFL franchises that still exist today. By 1921, the team had moved to Chicago, and in 1922 had changed its name to the Bears. The team was an almost immediate success and had fewer than 10 losing seasons from its inception until 1970.
Championships – The Bears have won nine championships but only one counts as a Super Bowl victory. That one, in 1985, is much prized by contemporary Bears fans, whose memories of the seven NFL championships the team won from 1921 to 1946 are non-existent or fading, and whose memories of the winning team in 1963 are probably not that much better.
Rivals – The Bears are part of the longest running rivalry in the NFL with the Green Bay Packers. The two teams began playing in 1921 and have played over 190 games. It's also been remarkably even — as of the start of the 2015 season, the Bears have the edge 93-91-6. They still play in the same division, along with the Bears other two rivals, the Detroit Lions and Minnesota Vikings. Those rivalries are not as old but they are plenty deep.
The Chicago Bears are a legendary team in reality and in… ahem… legend. As one of the oldest teams in the league, the Bears carry with them a mystique of traditional greatness strongly associated with rough, defensive football. This strength can also be interpreted as a weakness, and indeed, the team's inability or unwillingness to acquire or develop a great quarterback and a high-scoring offense is a major reason for their long championship drought. Their most brilliant stretch of play came in the mid-1980s and came thanks to an overwhelmingly good defense. It was around this time that the Bears entered the national vernacular (or at least my family's) thanks to this wonderful SNL skit. Of course, when it comes to comedy, unintentional is often better than intentional. Here's a totally unironic Chicago Bears fight song performed by the Chicago Symphony Orchestra. In all honesty though, that song is a great example of how the Bears celebrate their legacy as one of the oldest and most historic teams in the league and it's pretty cool.
Here is the their winning percentage in each season since their inception:

Who are some notable players or figures from the Chicago Bears?
Mike Ditka has been the key character in almost all Bears related dramas since the Bears drafted him fifth overall in the 1961 NFL draft to play tight end. The tight end position was at the cusp of a revolution and Ditka was on the barricades, leading the way. He helped transform the position from being primarily a blocking position to a hybrid blocking and catching one. In his five years with the Bears, he earned Pro Bowl honors each year and was part of the team that won the NFL championship in 1963. In 1982, he returned to the Bears as head coach after several years as an assistant coach in Dallas. He coached the Bears for 11 seasons and led them to their only Super Bowl victory. His hardened demeanor, brusque attitude, and military mustache became emblematic of the Bears during his time as coach. He was inducted into the NFL Hall of Fame in 1988 and is a frequent presence on NFL television today.
Walter Payton, known by his nickname, "Sweetness," is considered one the best and definitely one of football's favorite running backs of all time. After a wonderful college career at the historically Black college, Jackson State, Payton was drafted fourth overall by the Bears in the 1975 NFL Draft. In 1977 he rushed for 275 yards in a single game (during which he had the flu and a 101° fever). This record would stand for 23 years until it was broken in 2000. His running style, while elegant, was the opposite of his nickname. Payton was a tough, physical runner, whose policy was to seek contact rather than avoid it and who had celebrated touchdowns by simply handing the ball to a referee. Payton famously did not score a touchdown in the Bears Super Bowl win despite the team scoring 46 points, including one touchdown from a defensive player on an offensive rushing play that would ordinarily have gone to Payton. Payton was inducted into the NFL Hall of Fame in 1993 and died in 1999 at the age of 45.
Where do the Chicago Bears play?
The blind date test
Imagine you're about to go on a blind date and all you know about the person is that he or she is a Chicago Bears fan. Here's what you can guess about that person. Remember that all fans are unique. We bear no responsibility for any misunderstandings we engender. Trust but verify.
Your date is about to order a Polish sausage. She hates offense and would be as happy to tackle you as kiss you. Nah, just kidding, those are stereotypes too gross even for this joking segment. Your date has a love/hate relationship with tradition. She loves the Bears and a lot of what loving the Bears is about is honoring the past and respecting tradition, but after 30 years of the Bears way not working… maybe it's time for a change?
What will make a Chicago Bears fan squirm?
Jay Cutler, the Bears current quarterback, makes all Bears fans squirm, all the time. Say his name or place pictures of him in unexpected places.
Buy Chicago Bears Swag!
What do the Chicago Bears look like?
Team colors are dark navy, orange, and white. Their current uniforms look like this.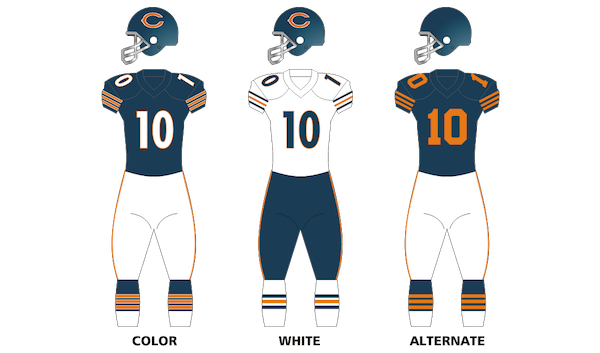 Current and recent teams
Coming soon — a post about the 2015 Chicago Bears including an overview of their most interesting characters as well as what fans expect from the team this year.