To celebrate and prepare for the World Cup in Brazil, Dear Sports Fan is publishing a set of posts explaining elements of soccer. We hope you enjoy posts like Why do People Like Soccer? How Does the World Cup Work? Why Do Soccer Players Dive so Much? What is a Penalty Kick in Soccer? What are Red and Yellow Cards in Soccer? and Why do World Cup Soccer Players Blame the Ball? The 2014 World Cup in Brazil begins on June 12 and ends on July 13.
 — — —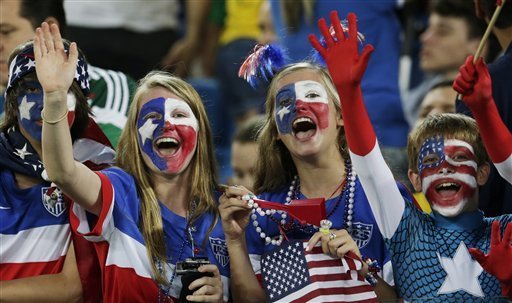 After a thrilling victory against Ghana that was watched by over 16 million people in the United States, the US team plays their second game of the 2014 World Cup on Sunday, June 22, at 6:00 pm on ESPN against Portugal. If you were one of those 16 million people or have talked to one of them since the game, you might be interested in tuning in for this game. Here are some things to know and prepare for.
Who Are the United States Players to Watch Out For?
Last week, before the first U.S. game of the World Cup, I wrote about Michael Bradley and claimed he was the best player on the team. Well, he wasn't against Ghana. In fact, he was kind of bad. Soccer people have been talking about this since then. How Bradley "responds" to this will be one of the big stories of the game. Natural variation in how a player plays from one game to the next is almost always turned into plot by avid sports fans. This is one of those times — either Bradley will "use the criticism as fuel and come back with a great game" or will "continue his run of bad play, prompting questions about what could be wrong with him." On the other hand, during the past few years statistical analysis has pervaded sports media, so you may also hear the phrase "regression to the mean." This just means that a good player is more likely to play like a good player after a bad game than he is to continue to play like a bad player.
The other player to watch out for is unknown as of yet. The best American striker (primary attacking player,) Jozy Altitore left the game against Ghana with what looked like a badly injured hamstring. No one is sure what coach Jurgen Klinsmann will do to replace him, not even the always-informed Jason La Canfora of CBS sports. La Canfora asked two former American National Team strikers what they would do and one said he would replace Altidore with Chris Wondolowski (his fans call him "Wondo") and the other said he would replace him with an extra midfielder and ask Clint Dempsey to play as the only striker. I would rather see the U.S. continue using two strikers, no matter who the replacement is, than try that but unfortunately, I have no say in the matter! Neither do you, so we'll just have to wait and see.
What's the Deal with Portugal?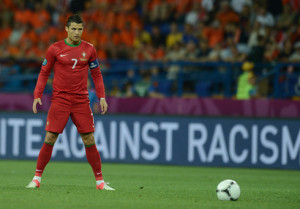 Portugal lost their first game to Germany 4-0. They looked terrible. They're also going to be playing without two of their best defenders, Fabio Coentrao who is out with an injury, and Pepe who got a red card for head-butting (he didn't get his money's worth, it was really more like nuzzling,) a German. The best player on Portugal's team, who is also generally considered one of the best two players in the world, is suffering from a knee injury. His name is Cristiano Ronaldo and he is really, really fun to hate. Try it tomorrow! To help you develop some healthy sports hate for him, here is a video compilation of him diving (for comparison's sake, the other consensus best player in the world is the Argentinian Lionel Messi who inspires YouTube videos that claim he "never dives.") What's even more annoying to me is the pose he strikes before taking free kicks. The way he stands there, with his legs wide and his chest puffed out and his always perfectly coiffed hair… just makes me wriggle in annoyance.
What Does This Game Mean in the Standings?
As we explained at greater length in our article, How Does the World Cup Work, the initial stage of the World cup consists of eight groups of four teams each who play each other to determine which two teams move on to the next stage. The group that the U.S. team is in consists of Ghana, Portugal, and Germany, and we play them in that order. Teams get three points for a win and one point for a tie. So far, Germany has a win and a tie (four points,) the United States has a win (three points,) Ghana has a loss and a tie (one point,) and Portugal has only a loss (zero points.) After the U.S. vs Portugal game, there will only be two games left in the group stage: Germany vs. the United States and Portugal vs. Ghana. If the United States wins, they will guarantee themselves a place in the next round because only Germany could exceed six points in the remaining games. If the United States tie, they are still in quite good shape. The worst they could do in that scenario is four points, which is the most that Portugal or Ghana could end up with. Having beaten Ghana and with Portugal having lost miserably to Germany in the first game (the number of times a team gets scored on matters for tie-breaking,) the United States would be likely to make it through. Losing to Portugal is a serious problem though, because then if Portugal beats Ghana, the United States would need to beat Germany to get in — an unlikely outcome.
Was that confusing? It is a little complicated but basically the United States will definitely advance with a win, will probably advance with a tie, and really, really should try not to lose against Portugal because then they might actually have to beat the Germans on Thursday.
So, What's Going to Happen?
Two missing defenders and an injured (and annoying!) Ronaldo notwithstanding, Portugal is a much more acclaimed team than the United States, and is favored over the United States. When Germany went up 1-0 against Ghana, I was filled with an overwhelming sense of dread about our game against Portugal. The U.S. team has a habit of snatching defeat from the jaws of victory and so far, everything was going right for the United States. Germany had destroyed Portugal, Portugal was not going to be playing at full strength, and the United States had (honestly) lucked into a win against Ghana. If the Germans had beaten Ghana, they might not have anything to play for in their final game against the U.S. and would be liable to rest their best players and not try too hard to beat us. Everything was going the United States' way, so of course, I felt everything would soon go horribly wrong. Then Ghana scored two goals and looked like they might beat the Germans. This was bad for the U.S. but I couldn't help feel good about it. For one thing, Ghana looking so good against Germany validated the United States needing some luck to beat Ghana in the first place. Mostly though, I think I just felt better (and feel better even after Germany and Ghana tied the game,) that the United States won't be able to luck their way into advancing. The team will have to earn it, and tomorrow, oddly enough, I think they just might do it. Go, go, USA!