One of the consequences of sports and sports teams being so well known by such a large percentage of the population, is that their colors, uniforms, and logos become fertile ground for cultural artifacts that refer to sports in one way or another. A few weeks ago, in a post about the controversy over the name of the NFL team, the Washington Redskins, we linked to a contest a design company had run to develop new logos for the team. Here are three other projects that use the language of sports for stylistic purposes.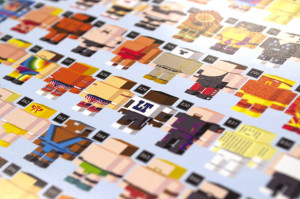 As found on Deadspin.com, this compendious poster showing the history of the WWF (World Wrestling Federation) is obviously a work of great devotion. His wrestlers are simple figures with cube-shaped heads that seem to evoke the character heads from the video game Minecraft.  Professional wrestling isn't really a sport, in my mind, but it shares many elements of sport and people who follow it are a lot like sports fans. Creator Scott Modrzynski has also done a lot of work creating foogos or logos made of food. One of my favorites is a deconstructed s'mores version of the Pittsburgh Penguins logo. It's truly remarkable! And while the foogos are too perishable to buy, some of his other work is for sale here.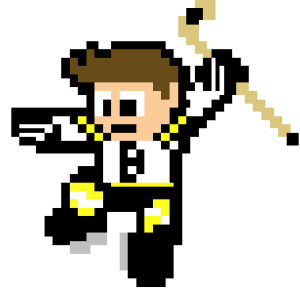 Sticking with hockey, and also found by Deadspin.com, here is a set of "sprites" representing the 30 NHL hockey teams plus the now defunct but still remembered fondly, Minnesota North Stars. These images are free to download. A sprite, as I discovered on wikipedia, was a shortcut used commonly in the early days of computer graphics to create a character that could be moved around on top of a background image without having to rebuild the background constantly. There is a set of comics that use sprites as characters for stylistic reasons but also because (again) it's easier that using characters and backgrounds that have to be rebuilt for each image. One of the most popular of these comics used sprites from the video game Megaman. It's these characters that artist, Adam4283 emulates when creating his set of hockey players.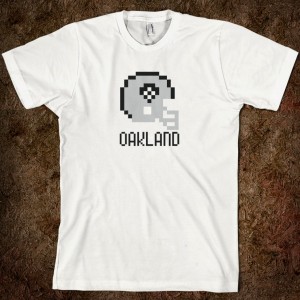 Our last find is a set of T-shirts sold on Skreened.com with simple, 8-bit style representations of NFL team helmets on the front. The unnamed creator of these shirts left a message explaining that "If you feel yourself being transported back to the days of Tecmo Bowl, don't be alarmed…that was the idea." Tecmo Bowl was one of the first, and still one of the most loved, football video games ever. To get a sense of how popular it remains, there's a youtube video of someone playing the game that has received over 1.6 million views since being posted in 2006. These shirts are a clever homage to the game.
There's a few shared elements in all three of these products. All of them mash-up well-known sports visuals with video-game graphics. All of them evoke an earlier time. And all of them would make a great gift for a sports fan in your life!