Cue Cards is a series designed to assist with the common small talk about high-profile recent sporting events that is so omnipresent in the workplace, the bar, and other social settings.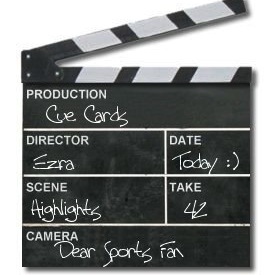 Yesterday —  Tuesday, September 16
Two divisions settled in baseball — Yesterday we mentioned that the baseball season is coming to an end soon. Just to prove the point, two of the six division winners in Major League Baseball (MLB) were conclusively settled last night. The Washington Nationals won their National League East division after beating the Atlanta Braves 3-0. The Nationals have now completed their three-year journey from surprisingly good to incredibly disappointing and now to living up to the expectations of being good. Their geographic neighbors, the Baltimore Orioles, also clinched their division after winning 8-2 over the Toronto Blue Jays. The Orioles are in the same division as two giants of baseball, the New York Yankees and the Boston Red Sox, so division victories are hard to come by. Congratulations to both teams!
Line: Are you ready for the baseball playoffs? In case you don't know how they work, here's a Dear Sports Fan post explaining it.
Crime and punishment still reign over the NFL — The scandalous season of the National Football League (NFL) continued yesterday with three stories. In the Adrian Peterson story (arrested for child abuse in Texas for beating his four year-old child) the Vikings reversed course. After benching Peterson for a week, they had announced he would practice and play this week but then yesterday they changed their minds and re-benched him. Maybe it had something to do with a major sponsor dropping the team. Meanwhile, the NFL Players' Association (NFLPA) is officially appealing Ray Rice's suspension. When you think of it just from a labor/management perspective and look at the process, it is a pretty messed up process. First he was suspended for two games, then the league changed the rules about domestic abuse so that they called for a six game suspension for a first offense, and then a week or two after that, the league suspended him indefinitely and has still not put a time-frame on the suspension. It's good that the players' association is playing their role properly here, no matter how repugnant the crime is. In other policy-changing-after-the-fact news, the NFL and NFLPA is about to agree on more lenient punishment for drug violations which will retroactively lesson the punishment for 20 or so suspended players, including some high-profile ones like wide receiver Wes Welker of the Denver Broncos.
Line: So, lemme get this straight, Welker's suspension gets shorter, Ray Rice's is being appealed, and Adrian Peterson? After one day of practice, he's "excused" from team functions again.