One of the most disconcerting aspects of traveling to a country whose language you don't know is how the most commonplace things become indecipherable. Ask a stranger for directions and she may think to explain tricky vocabulary but she'll almost never think to describe whether the place she just referred to is a city, train station, library, cafe, or all of the above. The same is true for sports natives. A thoughtful sports fan should be willing and able to explain a rule, but he'll almost never think of explaining who a particular team is, what sport they play, or the team's history and characteristics. In this series, we'll do just that — describe what is unique about each sports team.
Miami Dolphins – the basics
Sport – Football
League – National Football League (NFL)
Conference – American Football Conference (AFC)
Division – AFC East
History – The Miami Dolphins have always had a little bit of flair, as befitting a team so close to South Beach. The team was founded by an attorney/politician and an actor/comedian in 1966 in the American Football League. Today, the team is owned Stephen M. Ross, a real estate mogul, but has made a point to have several small celebrity minority owners including Marc Anthony, Gloria Estefan, Emilio Estefan, Serena Williams, Venus Williams, and Fergie.
Championships – The Dolphins won back-to-back Super Bowl Championships in 1972 and 1973.
Rivals – The Dolphins two primary rivals are the New York Jets and Buffalo Bills, both in-division competitors.
The Dolphins are the proud holders of the NFL's only perfect season ever. In 1972, the Dolphins won every game in the then 14-game regular season and then won throughout the playoffs. Some members of that team and fans have celebrated each year since then when the last undefeated team loses. There have been some close calls since then, but no team has been able to match the 1972 Dolphins. The team followed up its success by repeating as Super Bowl champions the next year. The Dolphins have not won since then, despite some great teams during the early to mid 1980s. Unfortunately for Dolphins fans, the trend-line on their team continues to slide downwards. Each decade since the 1970s has been a little worse than the last.
Here is the their winning percentage in each season since their inception:

Who are some notable players or figures from the Miami Dolphins?
Don Shula was the coach of the Miami Dolphins during their undefeated 1972 season and their repeat championship the next year. That would be the career highlight for any NFL coach and so it is for Shula, but it doesn't encapsulate him the way it would for most. Shula is associated with sustained excellence and coaching endurance. He remained the Dolphins coach until 1995 and in his 36 years as a head coach in the NFL (he coached the Baltimore Colts before the Dolphins), he only presided over teams that lost more than they won twice. He still holds many NFL coaching records, including  most games coached, most consecutive seasons coached, and most Super Bowl appearances.
Dan Marino remains to this day, the biggest star player the Dolphins have ever had. While their Super Bowl winning teams were more ensemble affairs, the Miami Dolphins of the '80s and '90s were a star vehicle for Marino. Marino was the prototypical pocket passing quarterback. His abilities to survey the field, release the ball quickly, and hit his target accurately downfield were unsurpassed during his era and possibly since. Despite setting many passing records, Marino only went to the Super Bowl one time and never won one.
Where do the Miami Dolphins play?
The blind date test
Imagine you're about to go on a blind date and all you know about the person is that he or she is a Miami Dolphins fan. Here's what you can guess about that person. Remember that all fans are unique. We bear no responsibility for any misunderstandings we engender. Trust but verify.
Thinking of just maybe bringing your date home tonight but worried that they might not be into your fifth story, no air-conditioning apartment in the middle of a July heat-wave? Don't sweat the small stuff, just sweat. The one thing you can be sure of about a Miami Dolphins fan is that they're perfectly comfortable grilling in 97°/100% humidity weather. Go for it!
What will make a Miami Dolphins fan squirm?
List great quarterbacks and leave Dan Marino out. Then when they bring him up, dismiss him because he never won a Super Bowl.
Buy Miami Dolphins Swag!
What do the Miami Dolphins look like?
Team colors are aqua, orange, white, and Marine Blue. Their current uniforms look like this.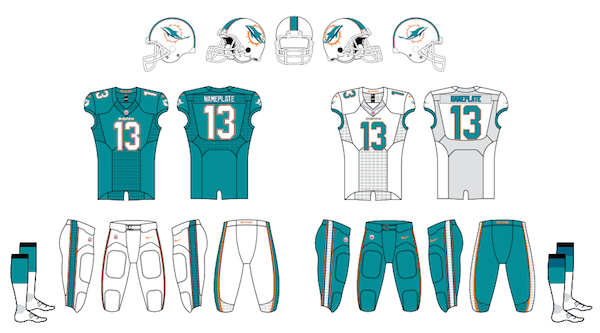 Current and recent teams
Coming soon — a post about the 2015 Miami Dolphins including an overview of their most interesting characters as well as what fans expect from the team this year.