One of the most disconcerting aspects of traveling to a country whose language you don't know is how the most commonplace things become indecipherable. Ask a stranger for directions and she may think to explain tricky vocabulary but she'll almost never think to describe whether the place she just referred to is a city, train station, library, cafe, or all of the above. The same is true for sports natives. A thoughtful sports fan should be willing and able to explain a rule, but he'll almost never think of explaining who a particular team is, what sport they play, or the team's history and characteristics. In this series, we'll do just that — describe what is unique about each sports team.
New England Patriots – the basics
Sport – Football
League – National Football League (NFL)
Conference – American Football Conference (AFC)
Division – AFC East
History – The New England Patriots were a founding member of the American Football League in 1960 as the Boston Patriots. When they moved 20 miles down the road to Foxboro, Massachusetts in 1971, they briefly flirted with the name, "the Bay State Patriots" before settling on their current name. The team's ownership changed several times and the team was almost moved to St. Louis in the early 1990s before being purchased by its current owner, Robert Kraft.
Championships – The New England Patriots have won four Super Bowls, all since 2000. They won in 2001, 2003, 2004, and then again in 2014.
Rivals – Although they are hated by many teams, the Patriots see themselves as having three main rivals, the New York Jets who play in their division, the Indianapolis Colts, who used to until 2002, and the Baltimore Ravens who they've met in many important games in the past 20 years.
The Patriots are the most successful team of this millennia. They're also probably the most controversial. In 2007 the team and their coach, Bill Bellichick were disciplined for having illicitly recorded video of an opposing team's practices. In 2014, they were accused of improperly inflating the footballs they used on offense during a playoff game. Although the team escaped punishment this time, its quarterback, Tom Brady has been suspended for four games pending legal recourse. These incidents aside, the Patriots are generally regarded as a radical organization. They'll try anything to win. They plan almost completely different game plans each week depending on their opponent, they constantly trade down in the NFL draft to take a larger number of less well-known players, they'll cut or trade anyone, no matter how popular and accomplished, if they feel they are starting to decline. They're willing to take character and injury risks with players that other teams stay away from. They are an extraordinarily stable organization when it comes to their core elements (owner, coach, quarterback) but basically everything else is constantly in motion.
Here is the their winning percentage in each season since their inception:

Who are some notable players or figures from the New England Patriots?
Bill Bellichick is a complex, intriguing man whose brilliant talent for football is only matched by his apparent contempt for everything he feels is non-essential to winning football games. Whether you think he is simply a porcupine without the desire or talent to cloak himself in the skin of a cuddlier animal or you think he is a teddy-bear wearing chain-mail probably has a lot to do with whether you root for the New England Patriots and vis-versa. Read more about Bellichick in a profile of him I wrote before the 2015 Super Bowl.
Tom Brady is the prototypical quarterback. He's tall, handsome, and athletic. He's an unquestioned leader. He is successful on the field and off the field. He inevitably evokes a strong response from people. Either you want to be him or want to be with him or you can't stand his smug, arrogant ways and you are annoyed that one person (other than you) could be so lucky. I wrote a lot more about him in an article leading up to the 2015 Super Bowl.
Where do the New England Patriots play?
The blind date test
Imagine you're about to go on a blind date and all you know about the person is that he or she is a New England Patriots fan. Here's what you can guess about that person. Remember that all fans are unique. We bear no responsibility for any misunderstandings we engender. Trust but verify.
A decade and a half of winning will spoil even the most down-to-earth fan bases. The Patriots fan across the table from you probably expects success, all efforts to the contrary. He or she is also likely to have the "us-against-the-world" mentality that Patriots fans have had to develop in response to its team's controversies.
What will make a New England Patriots fan squirm?
Express dismay and disgust at the Patriots for their cheating ways. Focus especially on Tom Brady and how his part in the conspiracy to deflate footballs has tarnished his otherwise "golden" image.
Buy New England Patriots Swag!
What do the New England Patriots look like?
Team colors are navy blue, red, silver, and white. Their current uniforms look like this.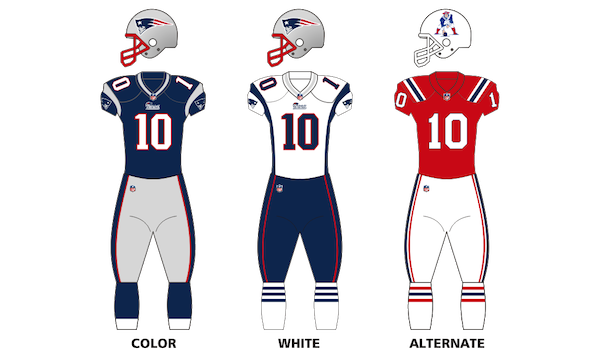 Current and recent teams
Coming soon — a post about the 2015 New England Patriots including an overview of their most interesting characters as well as what fans expect from the team this year.