One of the most disconcerting aspects of traveling to a country whose language you don't know is how the most commonplace things become indecipherable. Ask a stranger for directions and she may think to explain tricky vocabulary but she'll almost never think to describe whether the place she just referred to is a city, train station, library, cafe, or all of the above. The same is true for sports natives. A thoughtful sports fan should be willing and able to explain a rule, but he'll almost never think of explaining who a particular team is, what sport they play, or the team's history and characteristics. In this series, we'll do just that — describe what is unique about each sports team.
New York Jets – the basics
Sport – Football
League – National Football League (NFL)
Conference – American Football Conference (AFC)
Division – AFC East
History – The New York Jets began their existence as the New York Titans in 1959. One of the original American Football League teams, from the start the team created its identity as an alternative to the more traditional New York Giants. As then owner, Harry Wismer explained, "Titans are bigger and stronger than Giants." They weren't. The team struggled to get off the ground and almost disappeared in 1963 before being purchased by a group led by show business A&R man extraordinaire, Sonny Werblin. With the exception of a few short periods of success, the Jets have been largely a disappointment throughout their entire history.
Championships – Only one, during the 1968 season, but it was a big one. Many people point to this game, Super Bowl III, as the start of the NFL's meteoric rise in American sports.
Rivals – The Jets maintain simmering rivalries with all three teams in their division, the Miami Dolphins, Buffalo Bills, and New England Patriots. Their relationship with the Patriots is the most antagonistic of all of their rivalries and rivals any in the league for its intensity and bitterness.
The Jets have the biggest chip on their shoulder of all NFL teams. Second, even in their own city, the Jets are counter-cultural rebels. Their fans tend to be more working class than Giants fans and, regardless of socioeconomics, rowdier and more gleefully antagonistic. To understand the Jets, you need only to understand the long saga of where they've played. They started in the mostly defunct Polo Grounds, a stadium the New York Giants (football and baseball) had already moved on to. Then, they moved to Shea stadium in Queens, where the New York Mets played. The problem there was that they were forced to start each season with a few games on the road until baseball season ended. The Jets tried several different approaches to solve the problem but eventually left the city to go play in New Jersey… in Giants Stadium, the home of the New York (Football) Giants. The Jets were unable to change the name or the seat colors, so for years the New York Jets played in New Jersey in a stadium owned by and named for the other New York football team. Today, they still play in New Jersey but in a new stadium which is jointly owned by the Giants and the Jets and designed for both teams. Still, the long history of being treated like a second-class football team has shaped the character of the Jets and their fans.
Here is the their winning percentage in each season since their inception:

Who are some notable players or figures from the New York Jets?
Joe Namath was quarterback for the New York Jets from 1965 to 1976. During that time his teams won 66 games and lost 70 but that doesn't tell the story of Namath properly at all. Namath won the only game that truly mattered, Super Bowl III, and he did it in legendary fashion. This was in 1969, before the upstart AFL had merged with the NFL, although the question of whether they would was open to debate. Part of that debate was whether the AFL teams had enough talent to hang with the NFL ones. Most people thought they did not. When the Jets beat the Baltimore Colts, 16-7, it was a breakthrough not just for Jets fans but for the entire AFL community. Namath is also remembered for having guaranteed a victory before the game, although guarantees were not then the type of trope-y news getters that they are today. Namath, known as "Broadway Joe" for his celebrity looks and style has remained a legend among Jets fans.
Wayne Chrebet may not have had the looks, the fame, or the success that Namath had, but for a generation of fans, he was the epitome of everything they loved about the Jets. Listed at 5'1″ (but probably shorter), Chrebet was a born underdog who played his college football at unheralded Hofstra University on Long Island and was cut by a Canadian Football League team before ever getting a shot at the NFL. When he did get a chance with the Jets in 1995, he impressed the coaches and miraculously jumped past five or six bigger, more well known wide receivers to make the team. He stayed with the Jets for his entire 11 season career, from 1995 to 2005 and was a constant fan favorite for his moxie, sure hands, willingness to take on bigger players, and, it must be admitted, his race. Unfortunately, Chrebet's fairytale seems to have an all to real and scary ending. Years after retiring, he has reported having symptoms from the many brain injuries he sustained during his career.
Where do the New York Jets play?
The blind date test
Imagine you're about to go on a blind date and all you know about the person is that he or she is a New York Jets fan. Here's what you can guess about that person. Remember that all fans are unique. We bear no responsibility for any misunderstandings we engender. Trust but verify.
He or she has a massive inferiority complex. Alone among NFL fans, Jets fans have adjusted to not only being consistently a weaker team in their division but even in their own city! No comments about their height, weight, accent, or menu choices!
What will make a New York Jets fan squirm?
Basically, you can do almost anything and a New York Jets fan will squirm. They're perpetually on edge, always thinking that the worst is going to happen. I had a colleague who was a Jets fan. He once broke his hand punching through a wall in frustration… during a game the Jets won!
Buy New York Jets Swag!
What do the New York Jets look like?
Team colors are green and white. Their current uniforms look like this.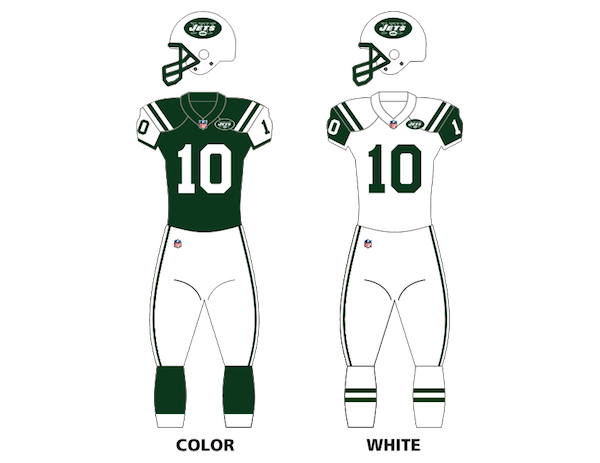 Current and recent teams
Coming soon — a post about the 2015 New York Jets including an overview of their most interesting characters as well as what fans expect from the team this year.