One of the most disconcerting aspects of traveling to a country whose language you don't know is how the most commonplace things become indecipherable. Ask a stranger for directions and she may think to explain tricky vocabulary but she'll almost never think to describe whether the place she just referred to is a city, train station, library, cafe, or all of the above. The same is true for sports natives. A thoughtful sports fan should be willing and able to explain a rule, but he'll almost never think of explaining who a particular team is, what sport they play, or the team's history and characteristics. In this series, we'll do just that — describe what is unique about each sports team.
Green Bay Packers – the basics
Sport – Football
League – National Football League (NFL)
Conference – National Football Conference (NFC)
Division – NFC North
History – The Green Bay Packers are the third oldest team in the NFL, having been founded in 1919. Back then, having a team in a small, industrial town like Green Bay, and naming it after the local industry, was not so unusual. For the team to have survived to today in almost that exact form is astounding. The Packers have never moved and have never been renamed and they are among the most popular NFL teams in the country despite having one of the smallest local markets. Part of their secret has been consistent winning, almost throughout their 96 year history. The team is also unique among American professional sporting franchises in its ownership structure. It is communally owned by over 360,000 people although only a very small percentage of those carry any decision making privileges.
Championships – The Packers can lay claim to being the winningest team in NFL history. They won nine NFL championships before the Super Bowl era and four Super Bowls including the first two in 1967 and 1968, one in 1997 and one in 2011.
Rivals – The Packers are part of the oldest rivalry in the NFL, with the Bears starting in 1921 and the longest continuously running with the Lions, starting in 1930. They're also rivals with the Minnesota Vikings.
The Green Bay Packers are most dominant team in NFL history. They are like the New York Yankees in baseball, the Boston Celtics in basketball, or the Montreal Canadiens in hockey. If you love history and nostalgia and knowing about the days of yore, you'll love the Packers. Their stadium, Lambeau field, is hallowed ground within the NFL community. Because of its setting and unique ownership, the team is more integrated into its city and surrounding area than any other team. People pass Packers season tickets down from generation to generation. Even spots on the waiting list will be inherited as a prized possession! The Packers players show their dedication to their fans by leaping (called the Lambeau Leap) into the crowd after scoring touchdowns.
Here is the their winning percentage in each season since their inception:

Who are some notable players or figures from the Green Bay Packers?
Vince Lombardi is the most famous coach in NFL history. Although he only coached the Packers for seven years, from 1959 to 1967, during those years, he made quite a name for himself. His teams won five NFL championships in those seven years, including three straight in 1965, 1966, and 1966. Lombardi was determinedly liberal on issues of race and sexual preference. He only booked his teams to stay in hotels that allowed white and black players to stay and was comfortable with and encouraging to gay players and co-workers in his organization. As a show of respect and sincere widespread fondness towards Lombardi, the NFL named its championship trophy for him in 1971 following his death at the age of 57.
Bart Starr had two stints with the Packers, first as their championship winning quarterback from 1956 to 1971 and then as a lackluster head coach from 1975 to 1983. Starr is regarded with an odd mix of reverence and dismissal. He is considered to have been a great leader on the field more than a great player. That's perhaps why the NFL award named after him is given each year to a player with "outstanding character."
Brett Favre was the charismatic quarterback who led the Green Bay Packers from 1992 to 2007. In that time, he won three straight NFL MVP awards, a Super Bowl, and set a record for consecutive games played, 297 (or 321 if you count playoff games) which may never be broken. He was as headstrong as he was strong armed, and was known almost as much for his wild mistakes as his brilliant successes. He had a desultory end to his career, playing with moderate success for the New York Jets and Minnesota Vikings and being the perpetrator of an early sexting harassment situation. As time passes, he is slowly regaining respect in the public sphere and will be eligible for induction into the Hall of Fame in 2016.
Where do the Green Bay Packers play?
The blind date test
Imagine you're about to go on a blind date and all you know about the person is that he or she is a Green Bay Packers fan. Here's what you can guess about that person. Remember that all fans are unique. We bear no responsibility for any misunderstandings we engender. Trust but verify.
He or she is used to winning but not unreasonably so. They love tradition, but not at the expense of winning, and will be willing to be flexible when push comes to shove. If you don't mind their habit of wearing a giant, yellow, plastic block of cheese on their heads, they might be perfect for you!
What will make a Green Bay Packers fan squirm?
Packers fans are understandably uncomfortable with how things ended with Brett Favre. Some will take the team's side and say that Favre was at fault. Others criticize the team and say that the organization was too quick to move on from a beloved employee like Favre. Despite the success of quarterback Aaron Rodgers who took over for Favre, many Packers fans will still cringe if you bring up the team's split with Favre.
Buy Green Bay Packers Swag!
What do the Green Bay Packers look like?
Team colors are dark green, gold, and white. Their current uniforms look like this.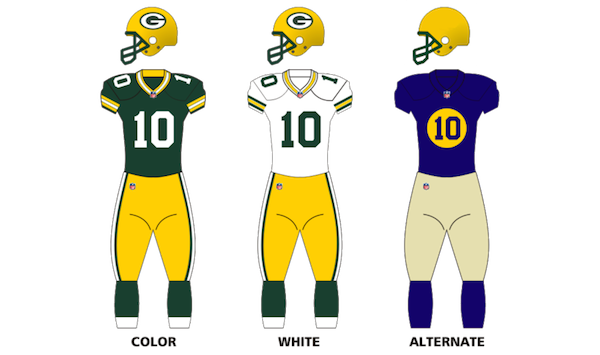 Current and recent teams
Coming soon — a post about the 2015 Green Bay Packers including an overview of their most interesting characters as well as what fans expect from the team this year.