One of the most disconcerting aspects of traveling to a country whose language you don't know is how the most commonplace things become indecipherable. Ask a stranger for directions and she may think to explain tricky vocabulary but she'll almost never think to describe whether the place she just referred to is a city, train station, library, cafe, or all of the above. The same is true for sports natives. A thoughtful sports fan should be willing and able to explain a rule, but he'll almost never think of explaining who a particular team is, what sport they play, or the team's history and characteristics. In this series, we'll do just that — describe what is unique about each sports team.
Minnesota Vikings – the basics
Sport – Football
League – National Football League (NFL)
Conference – National Football Conference (NFC)
Division – NFC North
History – The Minnesota Vikings were almost a founding member of the upstart American Football League before the NFL pounced on them and made them an offer they couldn't refuse to become the league's 14th franchise in 1961. Since then, they've managed to be very good (they have the third highest winning percentage in the NFL since 1961) without being very successful.
Championships – The won an NFL championship in 1969, the last year before the AFL merged with the NFL. Since then, they've been to the playoffs 25 times and the Super Bowl four times without ever winning another championship.
Rivals – The Vikings may be the new kid on the block in the NFC North with the Green Bay Packers, Detroit Lions, and Chicago Bears, but that hasn't stopped them from developing violent rivalries with all three.
The Vikings are the most successful failures in the NFL. Only the Buffalo Bills, with their four straight Super Bowl appearances (but no wins), rival the Vikings in pathos. They Vikings are almost always good, often very good, but always frustrating to their fans. They are a colorful team in terms of personality and uniform. Their name reflects the Scandinavian heritage of many people in the Minnesota area and their mascot is currently a dude named Joseph Juranitch who holds the World Record for fastest beard shaving with an ax.
Here is the their winning percentage in each season since their inception:

Who are some notable players or figures from the Minnesota Vikings?
Fran Tarkenton is a rare character. His Wikipedia page lists him as a football quarterback, television personality, and computer software executive. Tarkenton's first game was the Vikings first game in 1961. He threw for four touchdowns. Rare for his time (and his race, but that's another story with a long and racially complicated history) Tarkenton would frequently run with the ball which got him some great nicknames: "The Mad Scrambler," "Frantic Fran," and "Scramblin' Fran" and a lot of bruises. He played for the Vikings from 1961 to 1966 and then, after a one year stay with the New York Giants, from 1972 to 1978. When he retired, he held most major quarterback records. He was inducted into the Hall of Fame in 1986.
Randy Moss was a phenomenal wide receiver who burst onto the NFL scene in 1998 after a productive and controversial college career at Marshall University. He was the subject of a compelling documentary called Rand University which I wrote about in 2014. Moss' time with the Vikings, from 1998 to 2004 were the highlight of his career (plus one ridiculous season with the New England Patriots in 2007) and brought a lot of casual fans into football and made a lot of football fans root for the Vikings. For those of us where were teenagers at the peak of Moss' talents, he will always be the greatest receiver ever in our minds.
Where do the Minnesota Vikings play?
The blind date test
Imagine you're about to go on a blind date and all you know about the person is that he or she is a Minnesota Vikings fan. Here's what you can guess about that person. Remember that all fans are unique. We bear no responsibility for any misunderstandings we engender. Trust but verify.
Your date is a football fan who wears purple proudly. You may associate purple with Prince but Prince associates purple with the Vikings. He's a giant fan. Is your date a Prince fan in addition to being a Vikings fan? If so, he or she might be a keeper.
What will make a Minnesota Vikings fan squirm?
No Super Bowl wins? 25 playoff appearances since 1970? Four Super Bowl appearances? And no wins?
Buy Minnesota Vikings Swag!
What do the Minnesota Vikings look like?
Team colors are purple, gold, and white. Their current uniforms look like this.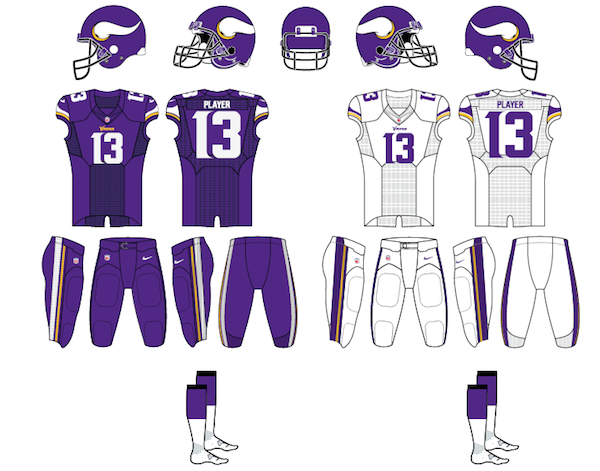 Current and recent teams
Coming soon — a post about the 2015 Minnesota Vikings including an overview of their most interesting characters as well as what fans expect from the team this year.