No, not that kind of tailgating! We at Dear Sports Fan don't encourage tailgating in your car unless you're a professional race car driver. Today we're talking about tailgating before a sporting event! Google defines tailgating as "eat[ing] an informal meal served from the back of a parked vehicle, typically in the parking lot of a sports stadium." That's a good definition but it doesn't capture the sheer enthusiasm and total seriousness with which true tailgating sports fans regard the tradition of tailgating. If you've ever gone to a game five hours early to be wined and dined (or should that be beered and fed?) with some of the most elaborate in-car or under-tent cooking you've ever seen, then you know what I'm talking about.
Yesterday I got an email from Quirky advertising a few of their quirky products for tailgating and I thought I would pass them on to you. Quirky is a unique company that brings aspiring inventors and product managers into a community of people who love great stuff and then pairs them with the production wherewithal to create, market, and sell unique, orginal products. Everything they sell on their website was invented, designed, and created from within the Quirky community. If you're interested, sign up here! Many of these inventions would make great gifts for the sports fan in your life, whether that's your boyfriend, wife, son, or mother. Or even yourself!
The Grill Wrangler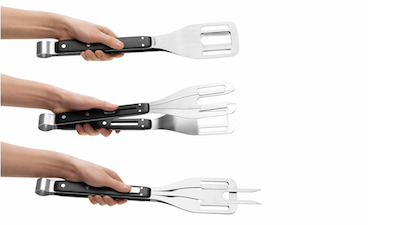 If you're serious about tailgating, then you're serious about conserving space in your car. Every extra tool you bring for cooking means one fewer beer or burger. This is a zero sum game, people! Paul A. Wachtel, the inventor of this product knows what I'm talking about. The grill wrangler is a three tools cleverly packaged together. It's a spatula, a fork, and tongs. I know that when I cook, I love my tongs so much that I use them even when the task at hand is much more suited to another implement. I bet I'm not the only one who does this. With this tool, I could have my tongs and flip things without breaking them too.
Metal Sliders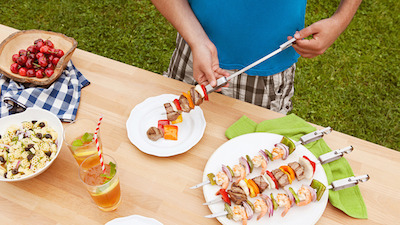 This next invention is perfect for germ-phobic kebab lovers. It's a set of metal skewers that have a built in metal tag that slides down the skewer, pushing the now perfectly cooked skewered food off the skewer as it goes. It's one of those solutions to a problem that has bugged you for ages that seems so obvious once someone else (Tim Hayes, in this case) invents it and shows it to you.
Cyclone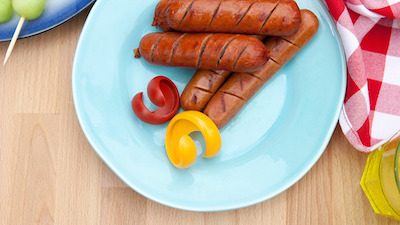 Sometimes, like with the last product, inventions solve long unsolved problem. Other times, like with this sweet little gadget, they make something perfectly good, even better. Everyone knows the best part of a hot-dog is the outside, where it makes contact with the grill and picks up all those wonderful charcoally, slightly burnt flavors. The Cyclone takes a normal hot dog and transforms it into something with three or four times the surface area to get all charcoally and slightly burnt on the grill by spiral cutting it. That's right, it's (as its inventor, Zoli Honig writes on the website,) a "clever tool that spiral-cuts any wiener in seconds." Used with sausages, as opposed to the pre-cooked hot dog, the spiral cut creates a more even, safer way to grill them to perfection.