If you're a casual baseball fan like me, you're probably more interested in the game right now than you've ever been before. That makes this the perfect time to invest in some stylish, clever baseball apparel for yourself or for the baseball fan in your life. Baseballism is a great place to find baseball apparel that looks and feels good. The "premium off the field brand focusing on the class, tradition and history of baseball" was founded by four former college baseball players who had, earlier in their lives, run a baseball camp together. Their style plays on the traditional aspects of baseball without taking on the conventional and a slightly ugly characteristics of old-school baseball uniforms. You can purchase some of their shirts on Amazon here. I've highlighted a few of my favorites below.
6+4+3 = 2 — A simple gray shirt with this non-mathematical equation that makes sense only if you 
know that 6 refers to the shortstop, 4 refers to the second baseman, and 3 refers to the first baseman. When the three are involved in a play, in that order, it's a double play (2 outs) with the shortstop fielding the ball, throwing it to the second baseman who touches the base to force the first base runner out and then throws it to the first baseman to get the hitter out. It's a clever but knowable baseball reference.
This shirt is available as a T-shirt for men and women.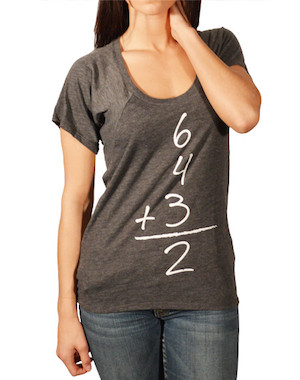 Baseball Blue Print — The field is one of the most unique things about the sports. While most sports are played in mundane, boring rectangles, baseball is played on a diamond within a misshapen fan-like field. Every baseball stadium is slightly different in its shape and dimensions. This Baseballism shirt shows the necessary geometry and dimensions for creating your own baseball diamond.
Baseballism Men's Blue Print Shirt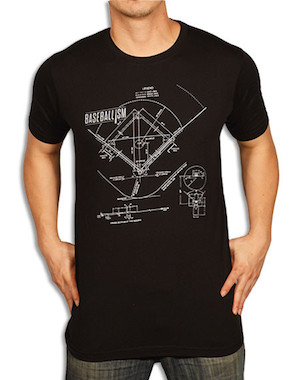 Kit Keller — This women's tank pays homage to Kit Keller, the younger sister of the main character in the classic 1992 baseball movie, A League Of Their Own
. Kit pushes her older sister to go to Chicago with her to try out for the All-American Girl's Professional Baseball League which really did exist and played for 12 years, beginning in 1943 when many male major leaguers were in the military services.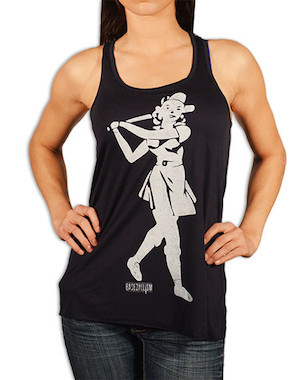 Take Me Out to the Ballgame — If you ignore the slight gender inequality of this shirt (why can't a woman take a man out to the ballgame?) and just focus on it's excellent (Mets) colors and design, you can relish in the fact that a song first popularized in 1908 by Jack Norworth and Albert Von Tilzer remains instantly recognizable today.
Take Me Out to the Ballgame Tank